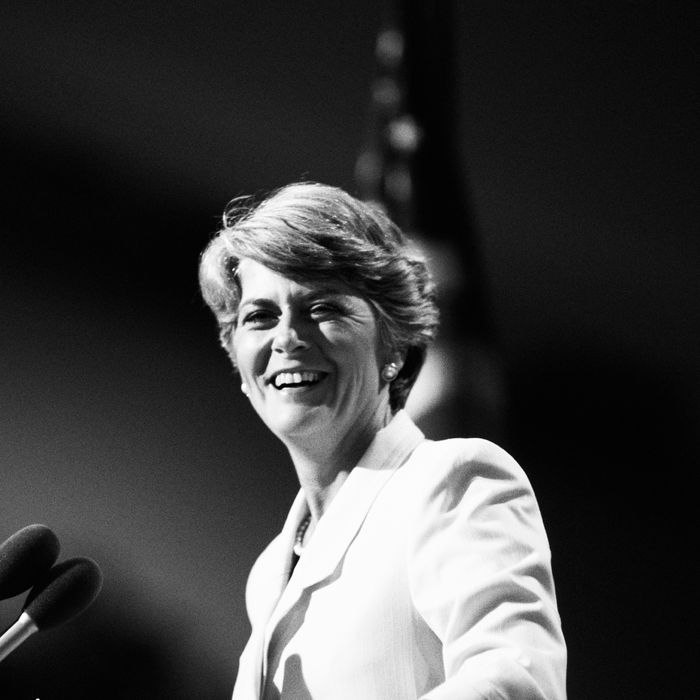 Geraldine Ferraro.
Photo: Wally McNamee/Corbis via Getty Images
With Joe Biden's announcement that California senator Kamala Harris will be his running mate, we are facing the historic possibility that a woman could finally hold the office of vice-president. While it has been a century since women's suffragists clinched the right to vote, Harris is only the third woman to run for this office. In many ways, women in American government have come so far: Public opinion has shifted, record numbers of women have won seats at all levels of government, and the "likability" test has been written off as a sexist trap. And yet Harris will likely still face sexist — and racist — attacks. In fact, she already has: Before Biden announced her as his second-in-command, reports emerged that campaign insiders were concerned that Harris was "too ambitious" to be his veep.
In bracing for this onslaught, it's instructive to look to the first woman who ever ran for vice-president on a major-party ticket: Geraldine Ferraro. When the Queens representative received a call from then–Democratic presidential candidate Walter Mondale ahead of the 1984 Democratic convention, asking her to be his running mate, she was overcome with pride and humility. She was also, as she later recounted in an interview with C-Span, "thrilled for women in the country because I realized what it was going to do was open a door that would never again be closed." But with the historic honor quickly came an inordinate amount of egregiously sexist mistreatment waged against her from fellow politicians and the media alike.
She was shamed for being a working mother.
Much has changed in the three-plus decades since Ferraro's historic nomination. Were she to run today, Ferraro probably wouldn't flaunt the law-and-order approach she took during her prosecutorial career in an apparent "effort to show she's tough minded," nor would she attempt to use her Italian American heritage to distinguish herself as a historic ethnic candidate. (Though in 2008, three years before her death, she insisted she was being attacked because she was white after she argued that Barack Obama's campaign was successful because he was Black.) It's also hard to imagine a major television personality accusing a female politician of something as overtly sexist as being an absent mother, which Barbara Walters did during a pre-nomination interview with Ferraro. As the Cut's writer-at-large Rebecca Traister notes in her book Big Girls Don't Cry, not only did Walters suggest that Ferraro's political career got in the way of her spending time with her kids on the weekend, but she also questioned why Ferraro used her maiden name. (While Ferraro took her husband's last name, Zaccaro, she used her maiden name professionally to honor her mother.)
In response to Walters's insinuation, Ferraro's husband, John, assured the host that, in his wife's six years in Congress, she had missed a mere two weekends with her children.
She faced relentless scrutiny over her husband's finances.
"For several days running, you couldn't turn on the set without hearing a TV political expert say that, as the first female vice-presidential candidate, she would be 'subjected to intense scrutiny,'" wrote Russell Baker, the Pulitzer Prize–winning writer behind the New York Times' irreverent "Observer" column, days after the conclusion of the 1984 Democratic convention. This prediction was realized almost instantly. The excitement of Ferraro's nomination was soon overshadowed by allegations of financial wrongdoing against her husband, a wealthy property speculator, which ballooned into a major scandal. While some of her supporters criticized her for what they saw as misjudgments involving the scandal — for example, her suspicious use of a congressional exemption that permitted her to omit her spouse's assets on a financial-disclosure form — they believed she was subjected to a disproportionate amount of scrutiny that no male presidential candidate would ever face over his wife's finances.
"She's carrying an extra burden," Patricia Carbine, former publisher of Ms. magazine, told the New York Times in 1984. "No other candidate's spouse has been scrutinized this way. They've asked other spouses about their charitable interests, their clothes, their hairstyles. Is there any more reason for John Zaccaro to have his business interests scrutinized than Lady Bird Johnson's?"
George H.W. Bush infamously 'taught' Ferraro about foreign policy.
One of the most egregious sexist incidents of Ferraro's run came during the 1984 vice-presidential debate, when George H.W. Bush, Ronald Reagan's running mate, doubted Ferraro's grasp of foreign policy. "Let me help you with the difference, Ms. Ferraro, between Iran and the embassy in Lebanon," Bush began, which Ferraro found highly offensive. She responded, "Let me just say that I almost resent, Vice-President Bush, your patronizing attitude that you have to teach me about foreign policy."
People doubted she could serve as president if necessary.
In his 2010 book The Good Fight, Mondale wrote that he thought Ferraro would have been "an excellent vice-president and could be a good president." But at the time of his run, many voters were unconvinced. During the vice-presidential debate, one person asked Ferraro, "Do you think … the Soviets might be tempted to take advantage of you simply because you are a woman?" A retired government worker expressed a similar concern to the Times: "What if Mondale died and she had to stand up to the Russians? She doesn't have much tact. And she's so hard looking."
Even Walters, in her 1984 interview, questioned Ferraro's capabilities. "Vice-president, okay, fine," Walters said. "But do you think you're equipped to be president?"