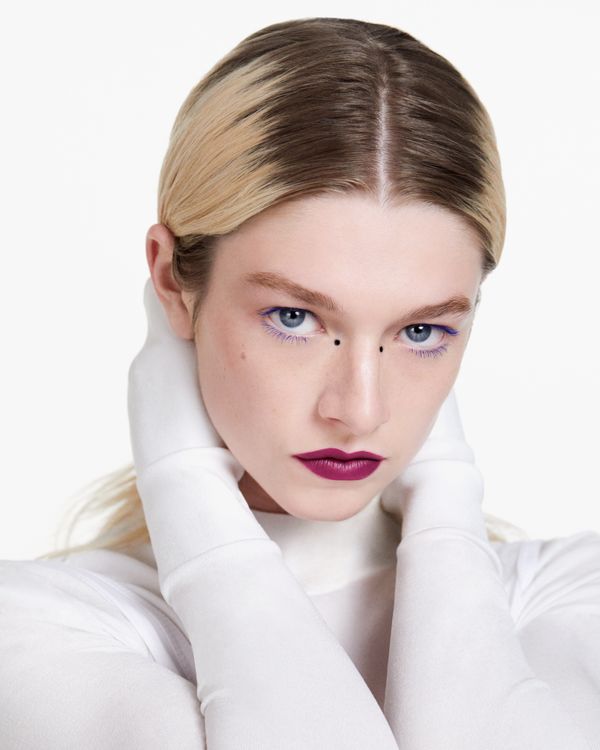 Photo: Courtesy of Shiseido
Just a few days into March, HBO's Euphoria was set to start shooting season two. But after the pandemic shut down production, cast members Zendaya and Hunter Schafer found themselves with some free time in their schedule. During that time, Zendaya filmed a secret movie, and it turns out that Schafer has also been busy: The actress, model, and activist is the new face of Japanese uber beauty brand, Shiseido.
Euphoria has been celebrated for its poignant portrayal of teen life, extending to the expressive, over-the-top makeup looks. Schafer's character, Jules, has a dreamy, anime-inspired aesthetic. She draws starbursts on her eyes to go roller skating, and paints her eyebrows in gold foil. When she cries, her tears trickle through her eyeliner and drip neon orange.
Schafer is also one of several new trans faces representing beauty brands, including most recently, Teddy Quinlivan for Chanel Beauty. Of her new global ambassador role, Schafer says in a press release: "When I look at SHISEIDO, I see a level of artistic energy that is really unique. As someone who likes to be artistic with makeup, that was something that instantly attracted me to the brand. SHISEIDO is about more than trying to look pretty or appeal to a specific standard of beauty. SHISEIDO is parallel to art."