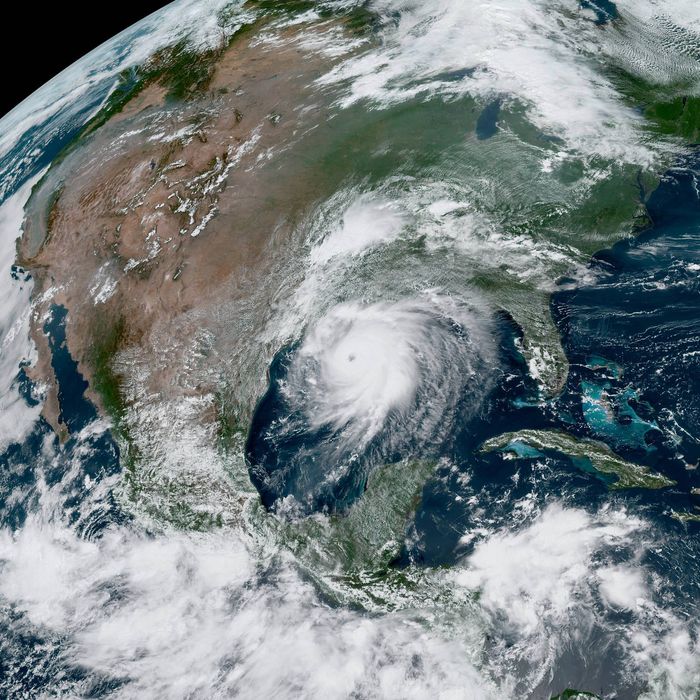 Hurricane Laura.
Photo: NOAA
Earlier this week, Hurricane Laura careened toward the Gulf Coast, causing alarm as it rapidly intensified to a Category 4 storm in record time — making it one of the most powerful storms in U.S. history. More than half a million people in Texas and Louisiana were ordered to evacuate, and governors of both states declared a state of emergency. In the early hours of Thursday morning, Hurricane Laura made landfall, carrying winds of a staggering 150 miles per hour and leaving behind major destruction in its path.
While the storm has weakened as it's moved inland, the states now await the storm surge — an abnormal rise in water level following a tropical storm which the National Hurricane Center warned yesterday would be "unsurvivable," and is expected to penetrate up to 40 miles from the coast. Here's everything we know about the destruction so far, and what to expect next.
Where did Hurricane Laura hit, and where is the storm now?
The storm struck Cameron, Louisiana, just after midnight central time on Thursday. At the time of landfall, the storm was Category 4. Hurricane Laura is the third major storm to strike Cameron Parish — which has a population of about 7,000 — in the last 15 years. Other communities that were in the storm's direct path include Port Arthur and Beaumont in Jefferson County, Texas; together, they have a population of 170,000.
In the hours since it hit land, Hurricane Laura — which is moving northward — has weakened to a Category 2 storm. Still, it has sustained winds of more than 100 mph. Now, areas along the Texas and Louisiana coast are bracing for the storm surge.
How dangerous is the storm surge?
The NHC has warned that Laura's storm surge will be "unsurvivable," creating widespread damage between Texas and Intracoastal City, Louisiana, up to 40 miles inland from the coast. Water is expected to reach as high as 15 to 20 feet, and the NHC predicts it will not fully recede for days.
"Some of the storm surge values are close to the worst-hit areas in Katrina," Joel Cline, tropical program coordinator at the NHC, told the Cut. Hurricane Katrina, which killed more than 1,800 people in 2005, saw surges reach 25 to 28 feet in places.
The NHC warns that parts of Louisiana, Mississippi, and Arkansas will see heavy rainfall and flash-flooding, which will spread northeastward into Mississippi, lower Ohio, the Tennessee Valley, and other mid-Atlantic States into Friday and Saturday. "The numbers we're seeing are unbelievable," Cline told the Cut. "Abide by what local officials tell you. This is nothing to play with."
How bad is the destruction so far?
Videos out of Lake Charles, Louisiana — the state's fifth largest city, which has a population of 78,000, and was in the storm's direct path — show buildings with blown-out windows, uprooted trees, and houses with their roof shingles ripped off. Similar footage has emerged out of Port Arthur, Texas, and other affected areas. More recent videos show steadily rising water, evidence that the storm surge has begun.
In a statement yesterday, the National Weather Service predicted that parts of Louisiana and east Texas may be "uninhabitable for weeks or months." Benjamin Schott, the director of the National Weather Service, predicted at a news conference that many people "will not be able to recognize the areas that they live in." Discussing the storm surge, Schott continued, "These numbers are unimaginable. To think that there would be a wall of water over two stories high coming onshore is very difficult for most to conceive. But that is what is going to happen."
On Monday, before Laura intensified to historic levels, Louisiana Governor John Bel Edwards predicted that storm would be "akin to Rita," the Category 5 hurricane that hit in 2005, causing $18.5 billion in damage.
How many people have been affected?
Ahead of the storm, approximately 500,000 people in Texas and Louisiana were ordered to evacuate their homes. Due to concerns over coronavirus, local officials have urged evacuees to seek shelter in hotels if possible, and both states have implemented programs to place evacuees in rooms. However, hotels are rapidly filling up. Some shelters will be operating at reduced capacity, and Nim Kidd, chief of the Texas Division of Emergency Management, said that COVID-19 testing teams would be set up "as soon as practical."
On Thursday morning, governor Edwards reported Louisiana's first fatality in connection with the storm: a 14-year-old girl who died when a tree fell on her family's home in Vernon Parish, which is approximately 75 miles north of Lake Charles. Additionally, before the storm entered the Gulf of Mexico, it pummeled the Dominican Republic and Haiti, killing at least 11 people and leaving millions without power.
There are also more than 500,000 people currently suffering from power outages due to Hurricane Laura.
What can people do to help?
The Red Cross is seeking financial contributions to help "provide shelter, meals, relief supplies and more" to those impacted by the storm. (You can donate here.) Additionally, the Mutual Aid Disaster Relief, a grassroots network, is calling for volunteers to help with on-the-ground work. If you live in the area and want to assist, sign up here.
This post has been updated.