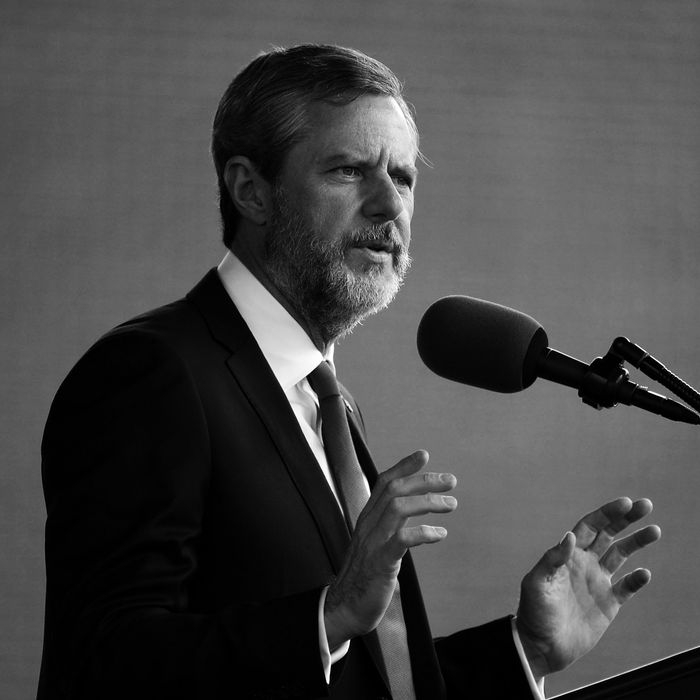 Jerry Falwell Jr.
Photo: Alex Wong/Getty Images
Never ever ever post. This is a tried-and-true rule of thumb to be followed by humans everywhere about social media, that cruel and tempting mistress, where the urge to express oneself for likes and comments can cloud good judgment and promote wicked idolatry.
You might want to especially follow that commandment if you are Jerry Falwell Jr., the president of the largest Evangelical college in the country, who last week shared an image of himself on Instagram so untoward that he is stepping down from his position at Liberty University in disgrace.
In the offending photo, Falwell Jr. is pictured standing with a redheaded woman, his hand around her waist. She is visibly pregnant, and has her denim shorts unbuttoned and her gray tank top pulled up to expose her belly. Falwell Jr. also has his jeans unbuttoned, showing an ominous hint of gray underwear, and his shirt pulled up to expose his own stomach. "Lots of good friends visited on the yacht," the caption reads. Falwell Jr. writes that what looked very much like a glass of wine in his hand was in fact "black water" and "a prop."
The photo was quickly deleted, but the fallout was nonetheless swift. On Friday, the Liberty University board of trustees announced that Falwell Jr. would be taking an indefinite leave of absence from his post. The board did not cite the photo as the reason for his termination, but it was, um, implied. Falwell Jr. told a radio station that the woman in the photo was his "wife's assistant," that he was sorry for taking it, and that he "promised his kids [he] would be a good boy from here on out." (More pictures from the weekend apparently show Falwell Jr.'s wife and several of their children and their children's spouses also on the yacht vacation.)
The levels of hypocrisy in a prominent Evangelical Christian posting this bizarre Instagram pic are almost too obvious to enumerate: Liberty University bans alcohol and students are instructed to dress modestly, or they are subject to punishment. One Reddit user calculated that, according to the rules at Liberty, Falwell Jr. would face up to $900 in fines and 900 hours of community service for the behavior in the photo. The Instagram debacle is the last straw in a series of controversies for Falwell Jr., who endorsed Trump in 2016, has no formal training as a pastor, and took over Liberty from his father. In January 2020, he called for Virginia to secede from the United States. Then in April, he "welcomed students back to campus" despite the coronavirus causing at least one death in the Lynchburg, Virginia, area where the campus is located; he also threatened journalists who covered the controversy, comparing them to Nazis.
But it was the "black water," unbuttoned jorts, and a need to scratch that posting itch that ultimately did him in, though for how long he will be in exile is unclear. One Liberty alum told Slate that it took the school's board being made publicly uncomfortable by the wacky, sexy (?) Instagram to get it to act on Falwell Jr.'s antics. "Liberty's board has shown us that their only public convictions relate to alcohol and sex," the student said.