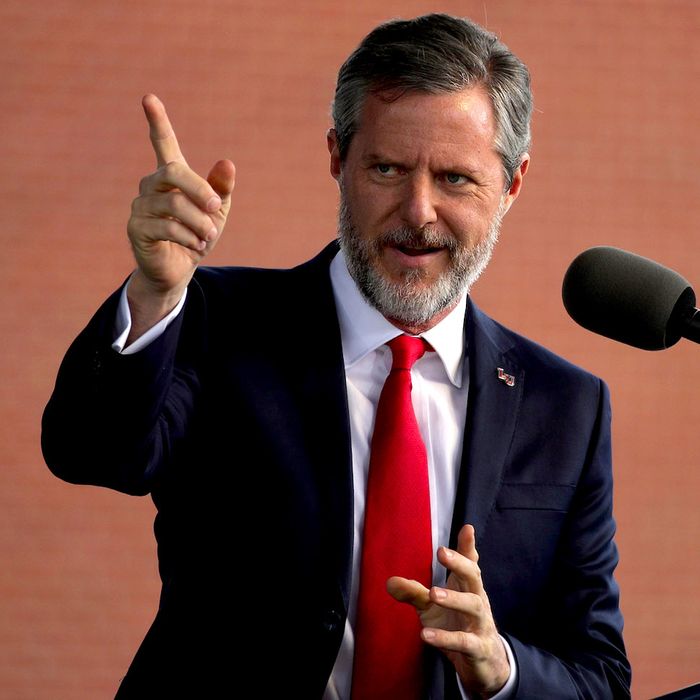 Jerry Falwell Jr.
Photo: Alex Wong/Getty Images
Jerry Falwell Jr. is officially out of a job after one too many scandals — the job being the presidency of an extremely conservative Christian university, and the scandals being largely sexual in nature. After an evening of chaotically mixed messaging, Liberty University says the wayward son (his father was Liberty's founder, Jerry Falwell Sr.) has definitely resigned as its president and chancellor, as well as from its board of directors, effective immediately.
"I am so encouraged by the unity of Christ that I saw exemplified by our Board today," acting board chairman Dr. Allen McFarland said in a statement. "Liberty University's future is very bright and in capable hands of leaders who are committed to being good stewards of what the Lord has entrusted!"
On Monday, the Washington Post reported that Falwell had "agreed to resign," and a Liberty University spokesman confirmed the resignation to CNN. However, Falwell himself told Politico reporter Maggie Severns on Monday evening that he was not leaving and had "not resigned." By Tuesday afternoon, he'd U-turned again, and this most recent resignation announcement seems to have stuck. The catalyst for all this upheaval was a report from Reuters alleging that Falwell and his wife, Becki, had engaged in a years-long relationship with their former business partner Giancarlo Granda. The Falwells had allegedly met Granda when he was 20 and working as a pool attendant in Miami Beach, and between 2012 and 2018, Becki and Granda sustained an "intimate relationship" with Falwell's approval. That's according to Granda, who said that "Jerry enjoyed watching from the corner of the room" when he and Becki were having sex.
Reuters said it had reviewed texts, recordings, and screenshots that seemed to confirm this version of events, which Falwell (through an attorney) initially denied. In a statement to the Washington Examiner ahead of Reuters's publication, however, Falwell blamed the whole thing on his wife. "Becki had an inappropriate personal relationship with this person," he said, "something in which I was not involved."
Granda's connection to the Falwells isn't exactly new: In 2018, BuzzFeed reported that the couple "flew Granda on a private jet" after becoming "friendly" with him at the Fontainebleau Miami Beach in 2012 and then backing him in opening a hostel. Odd, maybe, but quite chaste compared with Falwell's other alleged transgressions. In 2019, reports surfaced that Falwell had hired President Trump's former lawyer Michael Cohen to make some explicit images of his wife disappear. Apparently, Falwell had accidentally emailed these photos to some of his Liberty colleagues, whom he also (allegedly) subjected to boastful, lewd descriptions of his marital sex life.
Falwell has been on an indefinite leave of absence since early August, when he posted a photo of himself and a woman he identified as his wife's assistant. In the photo, Falwell's pants are unbuttoned, baring his stomach and the top of his underwear; one of his arms is around the (visibly pregnant) woman's rib cage, while the other holds a glass of what looks like red wine but that he said was "black water." It's very un-Liberty-like behavior: The university's stringent honor code prohibits students from drinking, having sex before marriage, and having sex outside of marriage, among many other things.
So why all the confusion around Falwell's purported departure, given that his alleged activities would almost certainly merit a student's swift expulsion? According to Liberty's statement (emphasis mine):
After agreeing yesterday to immediately resign then reversing course, Falwell, through an attorney, sent the resignation letter late last night to members of the Board's Executive Committee pursuant to the terms of his contract of employment. The Executive Committee met this morning and voted to accept all the resignations immediately and recommend ratification to the full Board. Later this morning, the full Board gathered via conference call and unanimously voted to affirm the decision of the Executive Committee.
Falwell will leave his post with whatever severance package was outlined in his "pre-existing employment agreement" and with an indelible stain of hedonism upon his godly record. Still, the university sends its "heartfelt prayers" to Falwell "and his family as he steps away from his life's work." Ouch.
This post has been updated to include confirmation of Falwell's ultimate resignation from Liberty University.