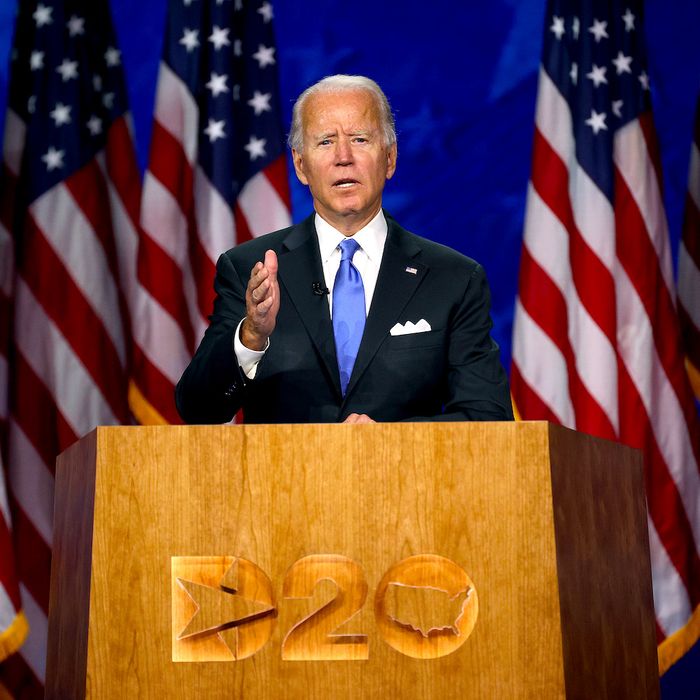 Joe Biden.
Photo: Win McNamee/Getty Images
Joe Biden accepted the Democratic nomination for president on Thursday night, giving a speech that was by turns moving, fiery, and personal. Biden's campaign has been marked by gaffes, as well as a tendency to misstate things, leaving expectations for the biggest speech of the DNC low. And yet the address Biden gave — absent pauses for applause — was both powerful and stirring. He even managed to stick the landing on his clunky catchphrase, "Build Back Better," a feat only champion orator Barack Obama has pulled off so far.
As a candidate, Biden has serious flaws: a series of misconduct allegations, regrettable stances on abortion, past opposition to educational integration, to name a few. But on Thursday, he offered understanding and compassion and authentic anger at the state of the country. He gave a surprisingly formidable speech, and while a good speech doesn't improve policies or change a political track record, it can leave the viewer with a sense of relief — and maybe even a whisper of hope.
Here are the best parts.
He addressed people who have lost loved ones to COVID-19 directly.
Roughly half a year into a pandemic that has killed more than 170,000 people nationwide, the president responsible for that climbing death rate and for leaving "our economy in tatters," as Biden put it, has yet to address the victims' families directly. (Outside of a rogue "I love you" in a recent interview, that is.) All week, DNC programming has emphasized Biden's personal experience with tragedy: the loss of his first wife and daughter to a car crash in 1972 and the loss of his son Beau to brain cancer in 2015. All week, his colleagues, acquaintances, family members, and friends have stressed how those moments built his empathy. During his acceptance speech, that empathy came through.
"On this summer night, let me take a moment to speak to those of you who have lost the most," he said. "I know how it feels to lose someone you love. I know that deep black hole that opens up in your chest. That you feel your whole being is sucked into it. I know how mean and cruel and unfair life can be sometimes. But I've learned two things. First, your loved ones may have left this Earth but they never leave your heart. They will always be with you."
He characterized George Floyd's death as murder.
Early on in his address, Biden said that his campaign was — among other things — about "winning the heart, and yes, the soul of America … for those communities who have known the injustice of the 'knee on the neck.'" It was a reference to George Floyd, a Black man killed by a Minneapolis police officer in late May.
Biden went on to name Floyd specifically, in speaking about "the stain of racism" on "our national character." But he didn't leave it there. He recalled "one of the most important conversations I've had this entire campaign" with Gianna Floyd, George Floyd's 6-year-old daughter, "a day before her daddy was laid to rest."
"She was incredibly brave," Biden said. "I'll never forget. When I leaned down to speak with her, she looked into my eyes and said, 'Daddy changed the world.' Her words burrowed deep into my heart. Maybe George Floyd's murder was the breaking point."
Politicians don't often refer to police killings as murder, not even when faced with as much damning video evidence as has come out in Floyd's case. They also don't tend to call the alt-right protesters who marched in Charlottesville, Virginia, "neo-Nazis," "Klansmen," and "white supremacists" outright, nor draw direct comparisons to the Third Reich. Biden did all of it.
And addressed systemic racism.
He also used the phrase "systemic racism" onstage, echoing his running mate Kamala Harris's nod to "structural racism" in her speech the night before. As Politico pointed out on Wednesday, Harris's may have been the first instance of a candidate using language so direct in an acceptance speech. That Biden also broached the topic was a refreshing change, particularly considering that talking about race has tended to prove tricky for him — one of his biggest stumbling blocks.
Getting it right on the big night doesn't make up for a less-than-inspiring record, of course. Still, it was heartening to see him make his point clearly.
"However it has come to be, America is ready to, in John [Lewis's] words, to lay down 'the heavy burdens of hate at last' and to do the hard work of rooting out our systemic racism," he said. "America's history tells us that it has been in our darkest moments that we've made our greatest progress. That we've found the light. And in this dark moment, I believe we are poised to make great progress again. That we can find the light once more."
He brought the address full circle.
Throughout the speech, Biden's fury at the current administration's myriad failures was, relatably, palpable. He successfully painted Trump as a villain without once naming him directly. Instead, he billed the Trump era — one of protest and violent, government-sponsored pushback — as a struggle between darkness and light. Trite? Sure. Effective? It really was.
Biden kicked off the speech with a quote from Ella Baker, "a giant of the civil-rights movement."
"Give people light and they will find a way," he recited. "Give people light. Those are words for our time. The current president has cloaked America in darkness for much too long. Too much anger. Too much fear. Too much division. Here and now, I give you my word: If you entrust me with the presidency, I will draw on the best of us not the worst. I will be an ally of the light, not of the darkness."
The thread of two paths — "hope and light" versus "shadow and suspicion" — was woven through the entire speech, contrasting Biden's plans with facts and figures on Trump's failures. He closed the circle with a poem from Seamus Heaney, concluding: "This is our moment to make hope and history rhyme."
"For love is more powerful than hate," he continued. "Hope is more powerful than fear. Light is more powerful than dark. This is our moment. This is our mission. May history be able to say that the end of this chapter of American darkness began here tonight as love and hope and light joined in the battle for the soul of the nation. And this is a battle that we, together, will win."