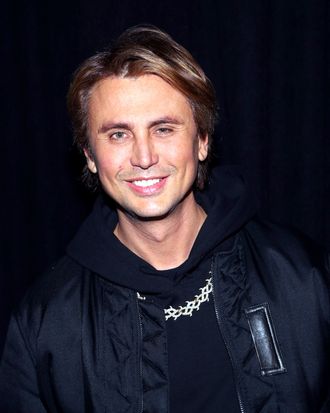 Foodgod, a.k.a. Jonathan Cheban.
Photo: Manny Carabel/Getty Images
Foodgod, whom you may also know as Jonathan Cheban, was reportedly robbed at gunpoint in New Jersey over the weekend.
Cheban, frequently billed as Kim Kardashian's BFF, is perhaps best known for his regular appearances on Keeping Up With the Kardashians and various spinoff reality-TV shows. Leaning fully into his identity as a culinary personality–slash–influencer ("Guy Fieri … for the young and hot," as he once put it), he formally adopted his social-media moniker, Foodgod, as his legal name last year. His reps confirmed to People that the robbery in question took place in Englewood Cliffs, and that the assailant stole Cheban's $250,000 Richard Mille watch after pointing a firearm at his mother's head.
Without sharing Foodgod's name, Englewood Cliffs police originally told TMZ that an armed robbery occurred in the area around 8:30 p.m. on Sunday. Cheban was reportedly standing outside a friend's house with a small group when a man approached and asked for the time. The man then pulled a silver handgun, and "forcibly removed" Cheban's watch before fleeing with an accomplice, according to TMZ. "Responding officers tracked the suspects with a K9 unit," police said in a statement, per People. "However the search yielded negative results for the suspects, weapons, or proceeds from the robbery."
Cheban reportedly sustained a minor injury to his wrist as his watch came off, but other than that, no one involved was physically injured during the incident.