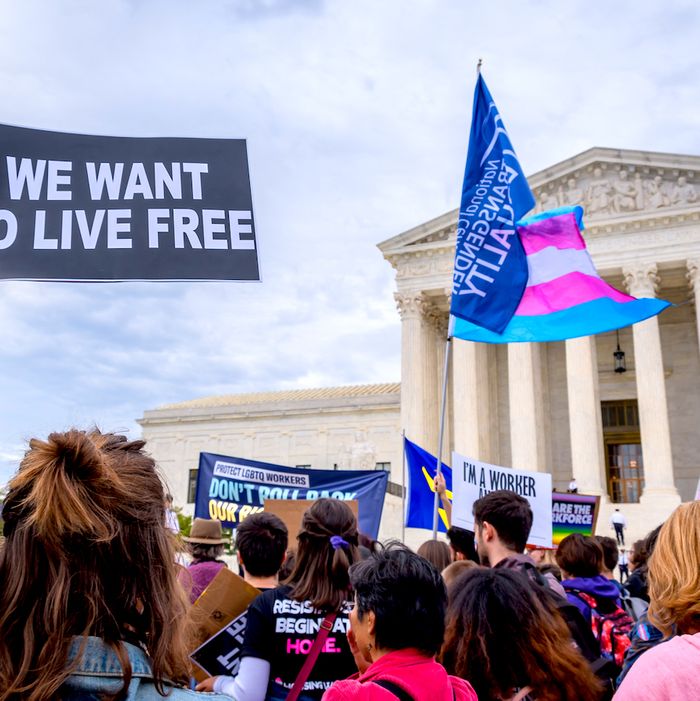 Photo: Erik McGregor/LightRocket via Getty Images
On Monday, a federal judge temporarily blocked the Trump administration's attempt to gut an Affordable Care Act provision intended to shield transgender patients from discrimination. Citing a recent Supreme Court decision that expanded Title VII civil-rights protections to include gender identity and sexual orientation, U.S. District Court Judge Frederic Block issued a preliminary injunction. It prevents the Department of Health and Human Services from implementing a narrow interpretation of sex-based discrimination in health care.
"When the Supreme Court announces a major decision, it seems a sensible thing to pause and reflect on the decision's impact," Block wrote, according to the Washington Post. "Since HHS has been unwilling to take that path voluntarily, the Court now imposes it."
In June, the HHS finalized its rollback of a 2016 nondiscrimination rule in the ACA, extending sex-based protections to include gender identity. In 2019, Roger Severino — director of the department's Office for Civil Rights — announced that the HHS would be "going back to the plain meaning of those terms, which is based on biological sex." Per the Post, that new definition would've taken effect tomorrow. But days after the HHS released its June statement, SCOTUS ruled that federal prohibitions on discrimination "because of sex" applied not only to cisgender female and male employees, but also to transgender people.
The Trump administration, meanwhile, has been insistent on biological sex-based guidelines across the board. HUD, for example, recently announced a similar proposal for federally funded, single-sex homeless shelters. But as NPR reported, the HHS iteration could have allowed some doctors to turn away transgender patients seeking services as basic as a checkup, as crucial as the care they need to transition, or as urgent as treatment for a reproductive cancer.
In his injunction, Block wrote that the HHS acted "arbitrarily and capriciously in enacting" policy that runs contrary to the Supreme Court's decision. As Politico reports, the 2016 adjustment had already been tied up in legal battles, and this particular challenge will likely continue. But Alphonso David, president of the Human Rights Campaign, which filed the lawsuit at issue on Monday, nonetheless characterized the injunction as a "crucial early victory" in a statement to CNN. "We are pleased the Court recognized this irrational rule for what it is: discrimination, plain and simple," David added. Meanwhile, an HHS spokesperson reportedly said the department is "disappointed in the court's decision."