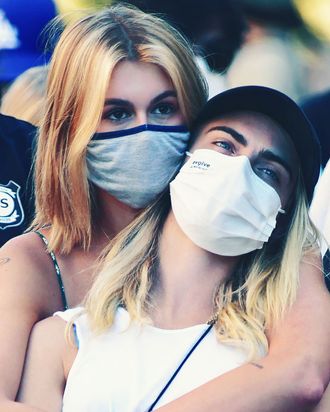 Photo: London Entertainment/Shutterstock
A passionate, possibly erotic friendship is afoot between model Kaia Gerber and model-slash-actress Cara Delevingne. The two have been close for months, staples in one another's social-media presences and sometimes photographed hanging out. Now they have matching pun tattoos on their feet that read "solemate." Yeah, they're definitely not gonna regret that.
It was Delevingne's 28th birthday on Wednesday, and in celebration 18-year-old Gerber posted a picture to Instagram Stories of their newly inked feet entwined, with the caption "Happy birthday to my solemate @caradelevingne."
Gerber went on to share several more photographs honoring their friendship, including the one where Cara wears a giant Kaia Gerber–themed sweatshirt and the one where the two cling to one another at a Black Lives Matter protest back in July. In another recent social-media post, Gerber posted an image of her and Delevingne wearing a single cardigan (yes, the Taylor Swift one).
Both women exited high-profile relationships this year: Delevingne broke up with longtime girlfriend and sex-bench co-parent Ashley Benson in April. Gerber was briefly linked to Pete Davidson in January.
I mention the past relationship stuff because Delevingne and Benson got a bunch of matching tattoos, and my Pavlovian response to the terms "Cara Delevingne," "tattoo," and "matching" is to smell a new relationship on the horizon. But Kaia and Cara have never commented one way or the other. So for now they are solemates, nailing that heel-arious Instagram presence, like, toe-tally.