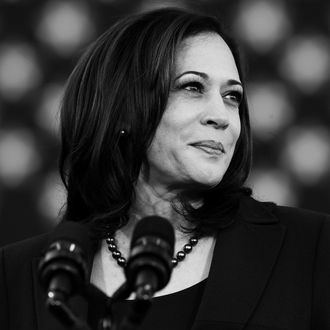 Kamala Harris.
Photo: NOAH BERGER/AFP via Getty Images
At long last, Joe Biden has picked his running mate: California senator and former presidential candidate Kamala Harris.
Biden made his long-awaited announcement in a text and follow-up email to supporters on Tuesday afternoon, the New York Times reports. "Joe Biden here," the message reads. "Big news: I've chosen Kamala Harris as my running mate. Together, with you, we're going to beat Trump.'' Harris is the first Black woman and first South Asian woman to be nominated for national office by a major party.
In recent weeks, Harris's name has appeared among the top contenders on Biden's predicted veep lists, alongside Illinois senator Tammy Duckworth, Massachusetts senator Elizabeth Warren, California representative Karen Bass, Stacey Abrams, and former national security adviser Susan Rice.
Harris has served as a junior senator of California since 2017, during which she's emerged as one of the more outspoken critics of the Trump administration. She also garnered national praise during the Senate Judiciary Committee hearing on Christine Blasey Ford's allegation that Supreme Court nominee Brett Kavanaugh had sexually assaulted her. She thanked Ford for her bravery and later forced Kavanaugh to admit he didn't watch Ford's testimony. Before her stint in the Senate, Harris served as San Francisco's district attorney from 2004 through 2011, and California's attorney general from 2011 through 2017. Most recently, she launched her own presidential bid; one of her most electric moments as a candidate came during a Democratic debate last July, when she lambasted Biden over his record on opposing federally mandated busing and his relationships with former segregationist lawmakers. However, due her tendency to waffle on issues, Harris's positions were at times elusive, which in part led to her campaign's demise. During her run, she faced backlash from progressives over her shifting stance on Medicare for All as well as her criminal-justice record.
In recent weeks, reports emerged that Biden insiders were advising him against selecting Harris as his second-in-command because of concerns that she was "too ambitious." However, those worries seem to have been assuaged. Now, Harris will be stepping into her new role as the Democratic presidential candidate's running mate — a role that will require heavy lifting. When Biden pledged during the last Democratic debate that he would choose a woman as his running mate, some criticized his declaration as pandering or tokenism, pointing to his troubling record on reproductive rights. As recently as last summer, Biden supported the Hyde Amendment, the measure that prohibits poor women from obtaining abortions, and he still has yet to explicitly apologize to Anita Hill for the way he notoriously mistreated her during her sexual-harassment testimony against then–Supreme Court nominee Clarence Thomas in 1991. Biden is also facing allegations of sexual misconduct from seven women, who say he violated their space and touched them in ways that made them uncomfortable. He's also facing a sexual-assault allegation from Tara Reade, who claims Biden digitally penetrated her while she was working as an aide in his Senate office in 1993.
By accepting Biden's nomination, Harris will likely find herself ensnared in a double bind: Not only will she be tasked with appealing to women skeptical of Biden, but presumably she'll simultaneously have to answer to the presumptive Democratic presidential nominee's troubling history. As Rebecca Traister argued in an essay following Biden's declaration, "Whichever woman gets the nod to be his running mate will wind up drinking from a poisoned chalice. Because the promise to choose a woman ensures that whoever she is, she will be forced to answer — over and over again — for Biden's treatment of other women, including the serious allegations of assault leveled by Tara Reade."