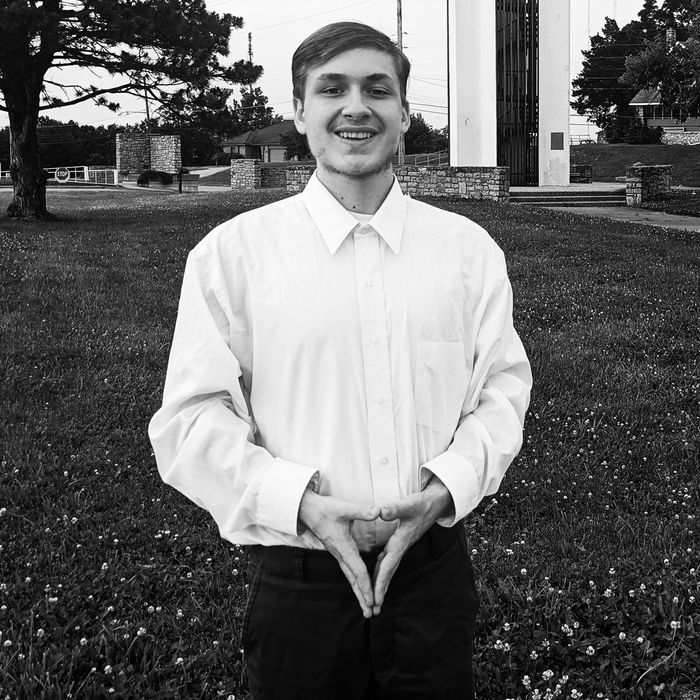 Aaron Coleman
Photo: Aaron Coleman for Kansas/Facebook
In Kansas last week, 19-year-old Aaron Coleman was declared the winner of a Democratic primary for a state House seat, defeating seven-term incumbent Stan Frownfelter by just 14 votes. At first, Coleman's seemed to be another story of a young, progressive candidate unseating an Establishment Democrat. By the end of the week, however, the story had taken a dark turn: In the immediate aftermath of the election, multiple women came forward saying Coleman viciously bullied them when they were in middle school. One says his verbal harassment led her to attempt suicide; another says he tried to extort her with a nude photo, then "sent it to everyone I knew."
On Sunday night, amid mounting backlash, the 19-year-old candidate announced his plans to withdraw from the race. Two days later, he reversed his decision, announcing that he would be staying in the race in a lengthy Twitter statement in which he neither apologized nor mentioned his victims. Instead, Coleman painted himself as a victim of "sustained attacks" from "party bosses in Topeka" and "affluent white-collar professionals on the coasts."
The Kansas City Star reported on the online-harassment claims last week. One woman, now 18, told the Star that she attempted suicide after Coleman's repeated attacks about her appearance when she was in the sixth grade. She recalls Coleman "calling me fat, telling me to kill myself, like I'm never going to find anyone, like I'm worthless, just downgrading me every day."
Another woman, Kati Hampton, now 20, said that Coleman threatened her and disseminated a nude picture of her when she was only 13. "He got one of my nudes and blackmailed me with it and told me if I didn't send him more he would (send) it to all of my friends and family," she told the Star in an email. "And when I didn't send him more, he sent it to everyone I knew. I don't know how he got the picture."
A third woman also reportedly said on Facebook that Coleman had harassed her for months, calling her family's home phone again and again until they'd pick up.
In a statement to the Star editorial board, Coleman said: "I made serious mistakes in middle school and I deeply regret and apologize for them. I've grown up a great deal since then." According to a sympathetic profile in the Intercept, Coleman "reached out to his victims from middle school to make amends, though they have not responded." But it's unclear whether he actually apologized to them — according to the Star, Coleman wrote to a relative of the woman who attempted suicide and said, "I've moved on. They call the past the past for a reason, because that's where you are supposed to leave things. At this point you shouldn't move on for me, you should move on for yourself."
On Sunday night, Coleman tweeted that he would be withdrawing from the election so he could focus on caring for his family and his father, who is ill and has been hospitalized for the past ten days. And while he reiterated that he "regret[s] his past actions" and hopes to continue to grow, Coleman also pointed fingers at what he called the "progressive circular firing squad," which he claimed "has done more to uphold the status quo than conservatives could have ever dreamed of."
He went on to call the episode "a defeat for democracy," and said that "whoever the Democrat nominee is for house district 37, it wasn't who the voters selected."
Two days later, Coleman walked back his decision. In his Twitter statement, he reiterated that his withdrawal would not be fair to the voters who had cast their ballots for him over Frownfelter. "I'm staying on the ballot, and staying in the race as the Democratic nominee," Coleman wrote.
In a follow-up statement, alongside a link to his ActBlue donation page, Coleman wrote, "I can never justify what I did to those women, and I do apologize to them from a place of remorse and shame, but words are no longer an acceptable response today." But rather than taking responsibility, he blamed his behavior on the lack of social services and human rights assured in the United States. "I believe that we have a moral obligation to provide a life of dignity to our citizens, and, I think, that with more self-respect, I would have been a better person to those women in middle school," he wrote.
He underscored this point again later, saying: "We NEED to focus on the fact that there is hopelessness amongst our young citizens, especially us men… I have the opportunities to stop others from meeting my fate."
Two opponents have mounted write-in campaigns against Coleman so far: Republican Kristina Smith and Stan Frownfelter, the Democrat Coleman defeated.
On Sunday, before Coleman announced that he would be staying in the race, Kati Hampton told the Times that she was relieved he had dropped out. "I just don't think he needs to be in a powerful position considering what he's done to girls," she said.
This post has been updated.