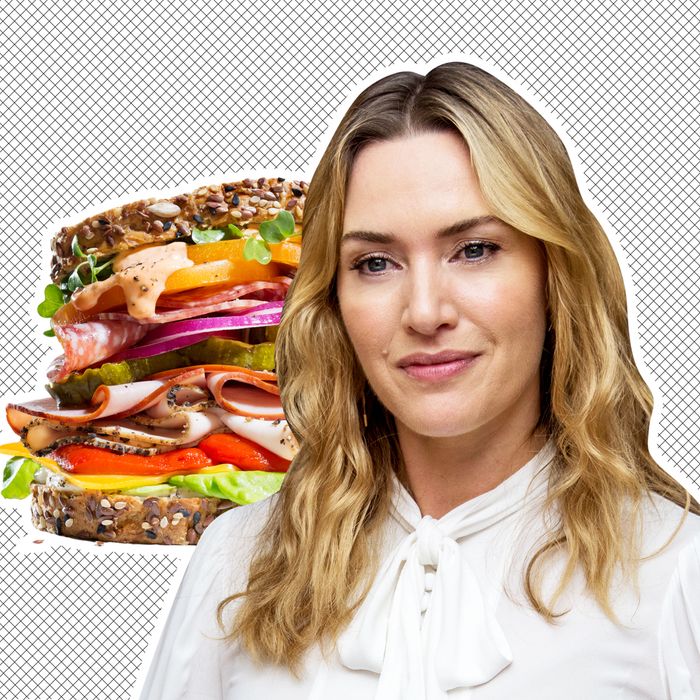 Photo: Photo-Illustration
"I say making movies is like eating a sandwich of shit. Sometimes you get more bread, sometimes less bread, but you always get shit."
This is a fine quote about filmmaking from a 2006 Guardian interview with Guillermo del Toro. But is this what Kate Winslet was referring to when she discussed her sex scenes with Saoirse Ronan in the upcoming lesbian paleontology period film, Ammonite? 
In a recent interview with The Hollywood Reporter, Winslet described the creation of her "most explicit" sex scene with Ronan, and in doing so used a sandwich simile. Here's what she said:
Saoirse and I choreographed the scene ourselves … It's definitely not like eating a sandwich. Saoirse and I, we just felt really safe. [Director] Francis was naturally very nervous. And I just said to him, 'Listen, let us work it out.' And we did. 'We'll start here. We'll do this with the kissing, boobs, you go down there, then you do this, then you climb up here.' I mean, we marked out the beats of the scene so that we were anchored in something that just supported the narrative. I felt the proudest I've ever felt doing a love scene on Ammonite. And I felt by far the least self-conscious.
But what could this mean? At the Cut, opinions were sharply divided. Upon reading this line, I figured that in saying, "It's definitely not like eating a sandwich," Winslet was referring to performing oral sex on a woman, which indeed, is definitely not like eating a sandwich. My colleague Madeleine Aggeler agreed, noting that Winslet's description "sounds like me in middle school describing how I think sex goes."
Not everyone agreed with us, though, and postulated that the sandwich comment was a reference to creating the scene itself. In other words, Winslet was saying, "This was a little complicated; not a simple task, like eating a sandwich." (Which is not to cast doubt on the existence of choreographed, simulated oral sex, merely that the choreographed, simulated oral sex was compared to the consumption of a classic midday meal.)
If we go this route, perhaps we can assume that Winslet was referring back to del Toro's quote about moviemaking. However, I find that this is a stretch, especially given how lovely the moviemaking process seems to have been. What's more, in perusing www.idioms.com, I found that there were no sandwich-related expressions that denote the difficulty of a particular task. (Existing English-language examples include: easy as duck soup, easy as one-two-three, easy as pie.)
Moving right along. Senior writer Katie Heany noted, that per Urban Dictionary, "eating a sandwich" is a euphemism for smoking weed from the 2005 sitcom How I Met Your Mother. I think we can rule this out, as the women of Ammonite seem to be stone-cold sober, but it's worth mentioning in light of the investigation.
Heany added her doubts about Winslet's language choice, saying that she didn't think Winslet would be this "inelegant." I thought the same, but in referring to the original interview noticed that Winslet said the word "fuck" eight times, two of which were "fucking shit." Hmm.
In the end, I'll present evidence from the trailer, which I believe supports my original theory that the sandwich simile is a reference to oral sex: It's suffused with longing, kissing, and Kate Winslet kneeling rapturously by Saoirse Ronan's voluminous skirts. Make of that what you will.