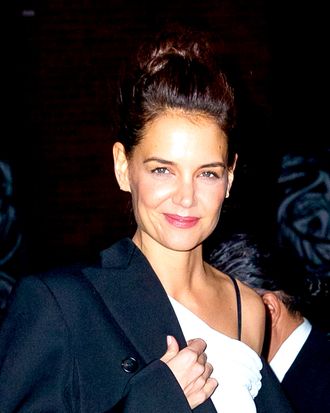 Her body is ready.
Photo: Jackson Lee/GC Images
Well, Democratic presidential candidate Joe Biden has finally selected his running mate, and surprise! It's California senator Kamala Harris, as I bet you have heard by now. Katie Holmes has certainly heard, and she certainly seems to have thoughts. This is only natural, seeing as the pick elicited a real grab bag of opinions: Some people have suggested that, with calls to defund police departments gaining traction, it isn't the time to elect someone who has billed herself as a "top cop." Others have pointed out that Harris is a historic choice, the first Black woman and the first South Asian woman to be nominated to a national office of this scale. Still others saw Biden's pledge to name "a woman" as his VP as tokenism designed to distract from allegations of sexual misconduct. And some are simply excited to have someone sharp and knowledgeable on the ticket. I cannot say for sure, but I would guess that Holmes falls into the excited camp. She seems very excited indeed.
On Tuesday evening, Holmes Instagrammed a photo of herself … reacting, is maybe the word? Reacting to the news, in her fashion. She captioned the photo #BidenHarris2020, so you would know this is about politics, baby. Otherwise, you might easily mistake the bathroom setting and the sexy stance for a thirst trap, which, two things can be true at once. Frankly, she looks great, whatever is going on here.
But maybe you are wondering, as I am wondering, what this photo means. What are we supposed to take from this pic? That Holmes is as bored as anyone else in quarantine? Has she, too, been polishing her nudes game? Is it simply that her body is ready to oust Trump from office? Celebs, they're just like us.