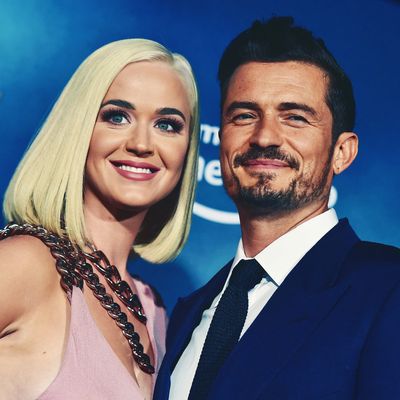 Katy Perry and Orlando Bloom.
Photo: Axelle/Bauer-Griffin/FilmMagic
Sometimes, the brain encounters a piece of information it simply refuses to absorb. You see it, hear about it, are reminded of it again and again, but each time, this piece of information washes over and away from you, leaving behind not a single trace that it had ever crossed your mind. This is what has happened to me over the years when faced with the fact of Katy Perry and Orlando Bloom's union. I'm not sure why. Is the human brain physically capable of computing that the singer behind the 2017 song "Bon Appétit," and the actor who played Legolas, son of Thranduil, are together? Or is it like one of those colors we haven't evolved to see yet? Scientists will surely be puzzling over this for decades to come, but in any case, Katy Petty and Orlando Bloom ARE together, I'm told, and not only that, they've just had a baby!
The news was first posted on Instagram by UNICEF, for which Perry and Bloom are both goodwill ambassadors, and then reposted by Bloom himself. The baby's name is Daisy Dove Bloom, and according to UNICEF's post, Bloom and Perry told them: "We are floating with love and wonder from the safe and healthy arrival of our daughter."
They added: "But we know we're the lucky ones and not everyone can have a birthing experience as peaceful as ours was," and encouraged their followers to support UNICEF to help struggling parents.
Perry and Bloom were first spotted together in 2016, at a Golden Globes after-party. They were together for about a year, during which they went nude paddleboarding and vaped at Coachella together, before separating to go pursue their own interests for a while (For Bloom: biking with puppies; for Perry: locking herself in a house for a weekend and Big Brother–style livestreaming the whole thing). Then, in early 2018 they started dating again, and in February 2019, Bloom proposed to Perry in a Champagne-stocked helicopter.
Congratulations to Perry, and Bloom, and baby Daisy, and also to me, who will periodically get the chance to relearn all of this as if for the first time. Cheers!