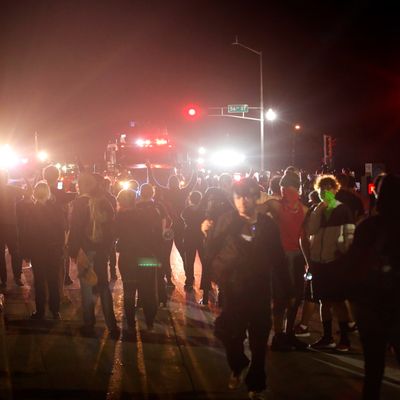 Protests for Jacob Blake spill into their third night in Kenosha, Wisconsin.
Photo: KAMIL KRZACZYNSKI/AFP via Getty Images
New York Is Committed to Covering This Essential Moment
We've removed our paywall from this and other stories about police brutality and systemic racism. Consider becoming a subscriber to support our journalists.
A 17-year-old Illinois teen has been arrested in connection with a fatal shooting that occurred in Kenosha, Wisconsin, on Tuesday night, which left two people dead and one person injured. The suspect, Kyle Rittenhouse, is facing charges of first-degree intentional homicide, the Milwaukee Journal-Sentinel reports.
The shooting occurred around 11:45 p.m. on Tuesday, when a group of people who had been participating in protests for Jacob Blake, the Black man shot in the back by police in front of his young children, headed to a nearby gas station after the city's 8 p.m. curfew. There, protesters encountered self-declared militia members and heavily armed men who declared they were there to protect the gas station and surrounding property. In multiple videos, local law enforcement can be seen thanking and handing out water bottles to the armed men, including a young white man who is later captured firing an AR-15 semi-automatic at protesters.
The scene quickly became chaotic. According to the New York Times, video footage from the confrontation shows Rittenhouse firing his gun four times while being pursued by a group of people, and hitting one person in the head. As he was being chased, Rittenhouse shot someone in the chest and another person in the arm, which was captured in another viral video. Following this shooting, Rittenhouse put his hands in the air and approached police vehicles, while people screamed that he had shot people. Instead of apprehending him, the police drove by and attended to those wounded by Rittenhouse. The victims have been identified as Joseph Rosenbaum, 36, and Anthony Huber, 26; Gaige Grosskreutz, 26, suffered a gunshot wound to the arm and is expected to survive.
On Wednesday afternoon, police arrested Rittenhouse, who is currently jailed in Illinois. According to Vice, Rittenhouse is a former police cadet, and per the Washington Post, his social-media presence is replete with pro-police messages like "Blue Lives Matter," and pro-gun sentiments. BuzzFeed News also uncovered a photo of Rittenhouse at a Trump rally this past January, where he sat in the front row. A spokesperson for the Trump administration has insisted that the president has "repeatedly and consistently condemned all forms of violence." However, some on the far right have gone so far as to hail Rittenhouse as a "hero," and Fox News' Tucker Carlson — the most-watched host in cable news — told viewers last night that Rittenhouse "had to maintain order" because "no one else would."
Along with first-degree intentional homicide, which is a Class A felony and carries a life sentence, Rittenhouse has also been charged with two counts of first-degree recklessly endangering safety, one count of first-degree reckless homicide, one count of attempted first-degree intentional homicide, and one count of possession of a dangerous weapon by a person under 18. Under Wisconsin law, he is charged as an adult. Today, he is scheduled to make his first court appearance for an extradition hearing.
This post has been updated.