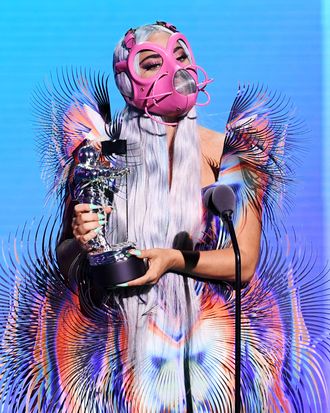 Photo: Kevin Winter/MTV VMAs 2020/Getty Images for MTV
Things were looking a little bleak for this year's VMAs. I mean, it's the show that featured this iconic Beyoncé performance, the Britney-Madonna-Christina kiss, and the Kanye West–Taylor Swift moment that kicked off a decade-long feud. And yet, it seemed like this year's show might fall by the wayside — how could it possibly thrive with an all-virtual audience, and an opening number featuring the Weeknd on a Hudson Yards rooftop?
The answer is, of course, Lady Gaga, who brought the same kind of energy to this year's VMAs that she did in 2010, when she wore a dress made entirely of meat.
Gaga wasn't taking this year's virtual spectacle any less seriously. While hardly any celebs showed up this year — even Taylor Zoom-ed in to accept an award — Gaga arrived with a closet full of couture, half a dozen spectacular face masks, and enough energy to make up for a CGI audience:
Not only did she have it in her to change outfits eight times, she gave an incredible, fully masked performance featuring music from Chromatica, at one point playing on a brain-shaped piano. Excuse me while I order the Chromatica thong.