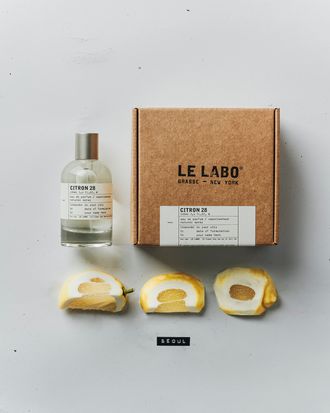 Le Labo Citron 28.
Photo: Courtesy of Le Labo
Once a year, perfume brand Le Labo allows noses living anywhere to sniff full-size versions of their City Exclusive scents. Typically, the city-specific fragrances are only available to purchase in the city they are inspired by. The brand has a strict "No online sales. No phone orders. No exceptions" policy, save for the month of September, which, alarmingly, is just around the corner.
Small samples of each perfume are currently up for grabs, so now's the time to take a sensory vacation and find a favorite destination. If you need a travel agent, you can purchase the brand's curated City Exclusive Discovery Set. 2020's itinerary includes five 1.5 ml stops in Amsterdam (Mousse De Chene 30), Miami (Tabac 28), Tokyo (Gaiac 10), Paris (Vanille 44), and for the first time, Seoul, via the brand's newest and fourteenth city scent, Citron 28.
Citron 28 is a twist on lemon, the "icon of citruses," and it conveys a combination of freshness and structure that mirrors Seoul, "a city rooted in tradition and history, yet at the forefront of all that is modern and forward-thinking." This balance between "the original and the conservative" smells like lemon, ginger, and jasmine notes resting on cedar and musks, according to the brand. The end result is a scent that's "almost universal and easy to understand — yet remains inscrutable," which is exactly what you want to smell like by Rihanna standards.
Regardless of which city you fall in love with, head back to Le Labo between the first and 30th of September to grab full-size souvenirs before all 14 scents go back to being locals only.