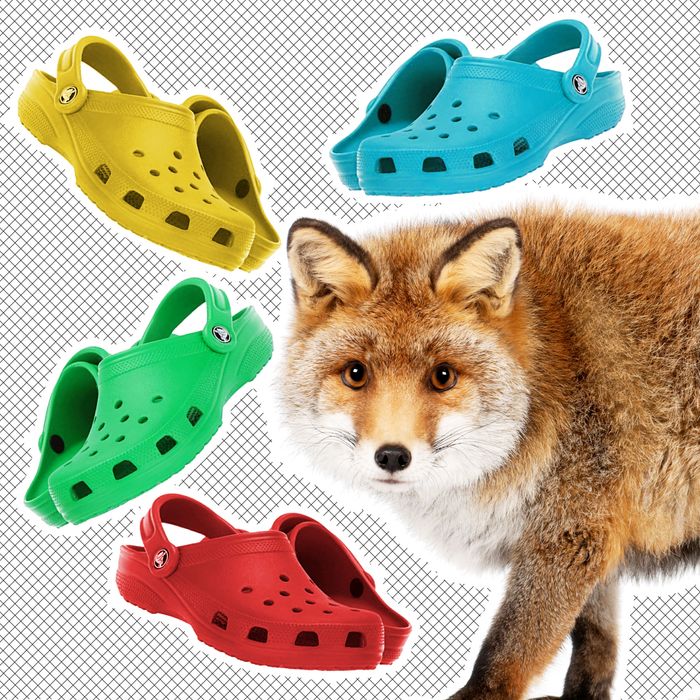 Let this fox keep his Crocs.
Photo: Getty Images, Crocs
For weeks, a growing number of residents in an affluent Berlin suburb found themselves facing a similar conundrum: Overnight, shoes they had left outdoors seemed to have vanished into thin air. Locals were bewildered; Crocs continued to disappear. And then there was a major breakthrough. In late July, a resident spotted a scraggly fox with two blue flip-fops hanging from his maw and proceeded to trail him. Before long, the person had stumbled upon the fox's remarkable trove of more than 100 shoes with colorful Birkenstocks, Crocs, and rubber sandals galore.
The ensuing media coverage was ruthless. The fox was labeled a "culprit" and a "thief" who was ultimately caught "red-pawed." According to one local outlet, some residents raided the fox's collection, reclaiming shoes they were still convinced belong to them. But this fox is no criminal. Instead, we ought to recognize and respect him for what he truly is: an ardent shoe collector who painstakingly procured the finest selection of comfortable footwear and did not deserve to have any of his treasures confiscated.
Perhaps under different circumstances, I might be more sympathetic to the locals — if, for example, the missing shoes were luxury items. But upon a thorough inspection of the fox's collection, I see no monograms or red soles; no one shelled out too pretty a penny for these sandals. Instead, what strikes me about the shoes is the remarkable consistency of his curation. This fox clearly knows what he likes: He has an eye toward practical footwear and isn't afraid of a little color. And like any good collector, he treated his finds with utmost care; as far as I can see, not a single shoe is mangled, and he did his best to keeps the pairs together.
And this is how we respond to his collection — not with admiration but disrespect? When historians reflect on this moment, they'll recognize that it was humans who were the real criminals here.