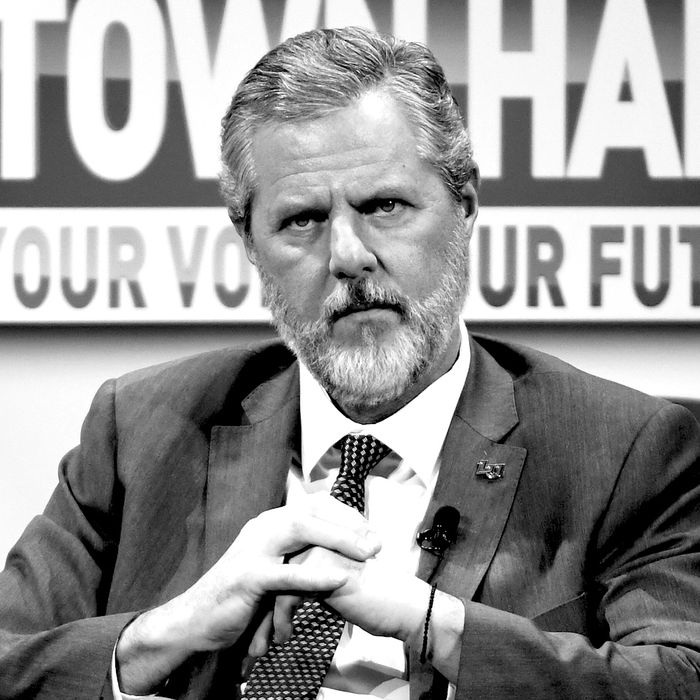 Jerry Falwell Jr.
Photo: Ethan Miller/Getty Images
More consequences may be in store for Jerry Falwell Jr., the megawealthy evangelist who was obliged to resign his post as president and chancellor of the very conservative, very Christian Liberty University last week. Falwell was publicly accused of engaging in some extremely un-Liberty-like behavior, and not for the first time; now, the school is launching a probe to determine just how pervasive that behavior may have been.
Citing "a lack of spiritual stewardship by our former president," Liberty's board of trustees said in a statement on Monday that the university had hired "one of the leading forensic firms in the world" to conduct an independent investigation "into all facets of Liberty … operations during Jerry Falwell, Jr.'s tenure as President, including but not limited to financial, real estate, and legal matters."
Falwell created many controversies in his decade-plus run as the school's leader. The one that ultimately led him to step down, though, was a Reuters report on the long-term "intimate relationship" he and his wife allegedly sustained with a Miami pool attendant, Giancarlo Granda. Granda, who eventually became the couple's business partner, said Falwell "enjoyed watching from the corner of the room" when he and Falwell's wife, Becki, had sex. Given that Liberty's honor code prohibits extramarital relations, Falwell's alleged conduct would seem to run afoul of school rules. But by the time the story broke, the university had already placed Falwell on an indefinite leave of absence for behavior unbefitting the Liberty community.
Earlier this month, Falwell posted a strange and vaguely sexual photo to Instagram. In it, he posed with his arm around a woman's waist, his pants unbuttoned to expose his paunch. In his hand, he gripped a glass of what he claimed was "black water," but looked more like red wine. A Reddit user estimated that Falwell's offenses — drinking alcohol and dressing immodestly — would have earned him $900 in fines and 900 hours of community service had he been a Liberty student.
These are not the only examples of Falwell's alleged impropriety. (See also: sending explicit photos of his wife to Liberty staff, purportedly on accident, and enlisting Michael Cohen to bury the pics; bragging about his and Becki's sex life to colleagues; tweeting, then deleting, a photo of a person in blackface and another of someone in Ku Klux Klan robes, as recently as June.) There have also been rumbles of below-board financial dealings. Falwell grew Liberty into a prominent institution with a $1.6 billion endowment during his time as president, and according to Politico, he may have exploited school business for personal gain. That's according to a number of "current and former high-ranking Liberty University officials" who provided documents and information for Politico's story, which ran last year.
"It's certainly fair to say that there were questionable comments made, worrying behavior, and inappropriate social media posts," the university's statement reads. "But all the signs were not there until the start of last week." Now, they are seeking a replacement ready and willing to fulfill their "spiritual responsibility to live out the Christian walk expected of each and every one of us at Liberty."