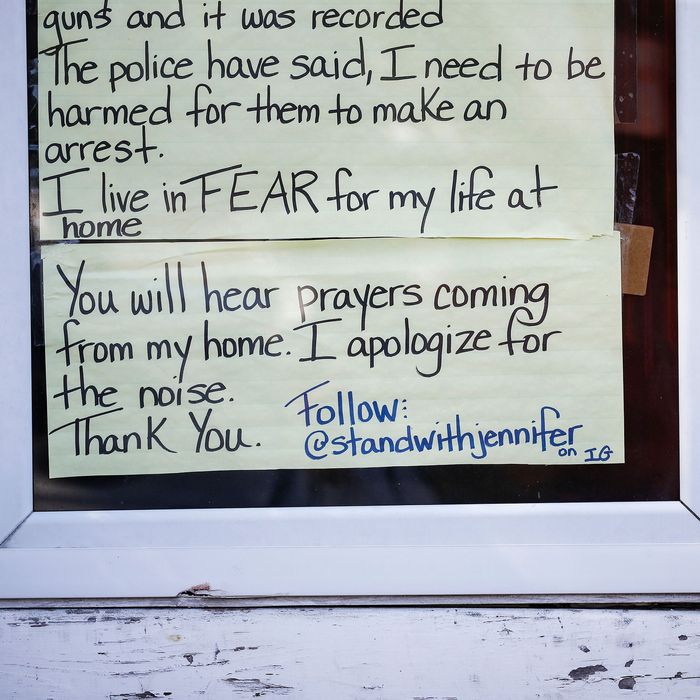 Photo: John Minchillo/AP/Shutterstock
In July, Jennifer McLeggan — a 39-year-old Black single mom who lives in Valley Stream, New York — posted a sign in the doorway of her home. On it, she accused her two white neighbors, John McEneaney, 57, and his live-in girlfriend Mindy Canarick, 53, of several abuses, and concluded, "I live in FEAR for my life at home."
McLeggan, a registered nurse, wrote that she had a recording of her neighbors goading their friends into spitting on her property. She said the couple also walked around the back of her house holding BB guns, took a blowtorch to her house late one night, wore blackface, threw feces on her lawn, left four dead squirrels in her yard, and said that McLeggan could be "erased." She wrote that when police were contacted, they told her that she needed to be harmed in order for them to proceed with an arrest.
On Monday, police arrested McEneaney and Canarick and charged them with several misdemeanors. The pair have allegedly harassed McLeggan for three years. Canarick was charged with criminal tampering in the third degree, and McEneaney with criminal mischief in the fourth degree and harassment in the first degree. The couple were arraigned at the Hempstead District Court and subsequently released. Sources told CBS2 that McEneaney's father has been accused of similar harassment, but prosecutors have not found enough evidence to arrest him.
Nassau County district attorney Madeline Singas said in a video statement announcing the arrests that McLeggan's sign, and the attention it received, prompted her office to start investigating her allegations. "I was heartbroken when I saw the sign on Ms. McLeggan's door," she said. "Nassau County is a very safe place to live and no one should feel threatened in their own home."
George Otero, another neighbor, told CBS2 of the arrests, "It's about time … Caucasian people, [McEneaney] doesn't bother. But if you're anything darker than he is he gives you a hard time." ABC7 reported in July, soon after McLeggan's sign was posted, that other people of color in the neighborhood said McEneaney harassed them, too, when they first moved to the area. Nonetheless, prosecutors said that investigators did not find evidence of a hate crime.
Heather Palmore, an attorney working with McLeggan, told ABC News that her client had "suffered in silence" because she feared retaliation. When she first moved to Valley Stream in 2017, McLeggan was pregnant with her daughter, now 2 years old, and "wanted to provide a safe place for her daughter and her to live." McLeggan told ABC News that the "last straw" came when she found the dead squirrels in her yard, which she suspects McEneaney of leaving there. "I think enough was enough at that point," she said. "That, to me, was a sign: You meant me harm."
McEneaney told reporters, "We're the victims. I am not a racist," and characterized his and Canarick's alleged confrontations with McLeggan as "squabbles as neighbors."
Judge Erica Prager has reportedly granted McLeggan an order of protection from her two neighbors, but McLeggan told ABC News she feels even less safe now, especially since they are still living next door. "I just feel like now they're more dangerous because now they've been arrested," she said.