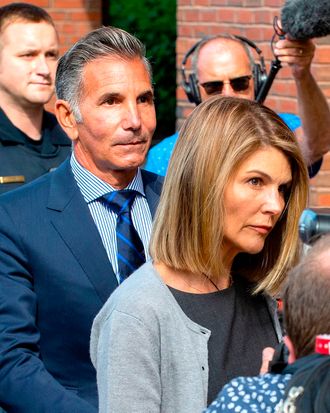 Mossimo Giannulli and Lori Loughlin.
Photo: JOSEPH PREZIOSO/AFP via Getty Images
Lori Loughlin and Mossimo Giannulli, of Full House and Target fame, respectively, have made some tough lifestyle changes since pleading guilty to fraud in the college admissions scandal. The pair resigned from their ritzy country club in disgrace, after "besmirching" its reputation and sparking infighting among its members. They offloaded their $29 million Bel-Air mansion for about $10 million less than their asking price — but don't worry too much, because they reportedly still made "money from the sale, just not as much as they hoped." And also, because they have now closed on a smaller, more modest mansion in Hidden Hills, California.
The new place is a 12,000-square-foot "contemporary farmhouse masterpiece" in an "equestrian-oriented" community, purchased for a reported $9.5 million, per Dirt. For this price, Loughlin and Giannulli will apparently enjoy six bedrooms, nine bathrooms, and a "colossal foyer, which features soaring ceilings and clerestory windows that bathe the interiors in light," according to Dirt. There is also a "chunky marble fireplace" on-site, plus a "temperature-controlled wine closet," a chef's kitchen, a swimming pool, a home gym, and a movie theater.
As for when the couple will be able to move in, well, it's certainly possible that sentencing will get in the way. Over a year after federal authorities accused Loughlin and Giannulli of paying $500,000 to buy their daughters faked athletic credentials that would land them spots on the University of Southern California's crew team, the pair pleaded guilty to conspiracy- and fraud-related counts in May. Per their deal with the Justice Department, Loughlin is reportedly hoping to serve two months in prison in addition to paying a $150,000 fine and completing 100 hours of community service. Giannulli, meanwhile, is seeking five months in prison, a $250,000 fine, and 250 hours of community service. Their hearings are set for August 21.