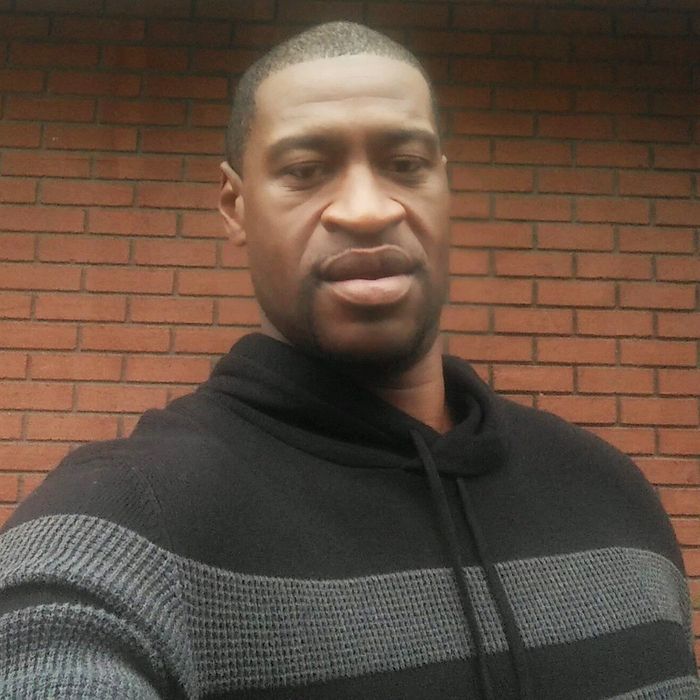 On May 25, a black man named George Floyd died in police custody at a Minnesota hospital following a brutal police assault that was captured in a bystander video. The footage shows a white Minneapolis Police Department officer named Derek Chauvin kneeling on Floyd's neck as he shouts, "I can't breathe," and several bystanders shout for Chauvin to stop his attack. After several minutes, Floyd's body appears to go limp. The Minneapolis Police Department later said in a statement that Floyd, 46, died of a "medical incident."
Following Floyd's death, the four police officers present at the scene were terminated. Four days later, Chauvin was charged with third-degree murder and manslaughter, while the other three officers escaped arrest altogether. Since then, protesters have demanded that all four men be brought to justice. On June 3, Attorney General Keith Ellison upgraded the charges against Chauvin to second-degree murder and manslaughter, and also brought charges against former MPD officers Tou Thao, Thomas Lane, and J. Alexander Kueng. Chauvin, meanwhile, is now being held on $1.25 million unconditional bail, or $1 million with conditions.
That incident, which has sparked widespread protests across the country, will no doubt remind people of Eric Garner, whose brutal death at the hands of NYPD officers in 2014 (cops kept him in a choke hold as he repeatedly yelled "I can't breathe") was a major flash point for the Black Lives Matter movement. Outrage over the death of a 25-year-old black man named Ahmaud Arbery, who was shot to death while jogging in February, is still painfully fresh; graphic footage of the incident that went viral earlier this month shows Arbery fleeing two armed white men before shots are heard.
Here's what we know about George Floyd's case so far:
Police were called to stop a "forgery in process"
According to a police statement, officers were responding to reports of a "forgery in process" at the Cup Foods grocery store and "were advised that the suspect was sitting on top of a blue car and appeared to be under the influence." When the officers arrived, according to their report, they found Floyd sitting in his own car, at which point they ordered him to step outside. According to the incident report, Floyd then "physically resisted arrest." Police say it was only after they cuffed him that they realized he was "suffering a medical distress" that prompted them to call an ambulance. Police say he died shortly upon arriving at the Hennepin County Medical Center.
The Star Tribune later reported that the "forgery" referred to a counterfeit $20 bill, which Floyd allegedly used to buy groceries.
Initial footage of Floyd's assault fills gaps in the incident report
Darnella Frazier, the bystander who filmed the altercation, which was entirely left out of the police report, said that when she got to the scene Floyd was already on the ground. "The cops, they was pinning him down by his neck and he was crying," she said in a Facebook video. She said his face was pressed so hard against the ground that his nose was bleeding. A crowd quickly formed around the scene. Several people can be heard on tape telling the cops to stop hurting Floyd and to check his pulse once he appears to be unresponsive.
The video prompted Minneapolis mayor Jacob Frey to apologize to the city's black community on his Facebook page, where he wrote on Tuesday morning, "Being Black in America should not be a death sentence. For five minutes, we watched a white officer press his knee into a Black man's neck … When you hear someone calling for help, you're supposed to help. This officer failed in the most basic, human sense."
Another video emerged, showing Floyd didn't resist arrest
Last week, a second bystander video began circulating that clearly shows Floyd did not physically resist arrest, disproving the police incident report's claim that he had done so. The video, taken through the windshield of the onlooker's car, shows two officers furiously cuffing Floyd, but Floyd himself appears just to be standing by his car.
Another video from surveillance cameras provided by a local restaurant owner shows what happened next: Floyd sitting on the ground handcuffed. Then a couple of police officers stand Floyd up and press him against a wall before walking him off camera. Floyd looks distressed, but there's no sound to indicate what anyone on camera is saying.
In an interview with CNN, Cup Foods co-owner Mahmoud Abumayyaleh said footage from the store's surveillance cameras, which has not been released to the public, also shows Floyd not resisting arrest.
Transcripts of the body cam audio show Floyd said he couldn't breathe more than 20 times.
On July 8, transcripts from the officers' body cams were filed in a Minneapolis state court, part of Lane's push to get his charges dismissed. The records suggest police were confrontational from the start, telling Floyd to "put [his] fucking hands up right now" before he's even left his car, as he insists he's done nothing and apologizes repeatedly. After Chauvin pins him down, the transcripts — published by the New York Times — show, Floyd repeatedly insisted he couldn't breathe. He gasped that his "face is gone" as Chauvin's knee crushed it into the gravel. "I can't believe this, man," he says. "Mom, I love you. I love you," and then: "Tell my kids I love them. I'm dead." For a short time, he continued to plead with Chauvin:
Floyd: I'm through, I'm through. I'm claustrophobic. My stomach hurts. My neck hurts. Everything hurts. I need some water or something, please. Please? I can't breathe officer.




Chauvin: Then stop talking, stop yelling.




Floyd: You're going to kill me, man.




Chauvin: Then stop talking, stop yelling. It takes a heck of a lot of oxygen to talk.
And then, when Floyd's words cut out, witnesses began criticizing the officers, telling them Floyd is neither moving nor breathing. The officers' dialogue doesn't seem overly concerned. "You guys alright though?" Chauvin asks his colleagues. "Yeah, I mean my knee might be a little scratched, but I'll survive," Lane — who held Floyd's legs — replies. Lane did suggest, apparently before Floyd lost consciousness, that he be rolled on his side because of "excited delirium or whatever." However, when Chauvin said an ambulance was en route, Lane did not press the issue. "OK I suppose," he answered, according to the transcripts.
In total, Floyd appears to have told officers that he could not breathe about 27 times.
Footage from those body cams has now been released
On August 10, in line with a July motion filed by a cohort of media outlets, Hennepin County District Judge Peter Cahill released footage from Kueng and Lane's body cameras to the public. Previously, their contents had been published as the aforementioned transcripts, while the recordings themselves were made available to press. The Daily Mail leaked segments of the footage on August 3.
In the videos, which are both graphic and upsetting, the officers adopt an aggressive stance from the outset, Lane drawing his gun on an apologetic Floyd without saying why he was being questioned. Lane also demands to see Floyd's hands — which are already raised. Lane pulls Floyd sobbing from the car and handcuffs him, as Floyd explains repeatedly that he is scared and "[doesn't] know what's going on." Chauvin and Thao arrive as Lane and Kueng try to force Floyd into their squad car, and he falls to the ground. At that point, Chauvin begins to kneel on Floyd's neck as the others help restrain him. According to the body cam footage, Chauvin appears to have held his position for nearly nine minutes and 30 seconds.
Dispatch calls registered concern about Chauvin's use of force
On June 15, the Minneapolis Police Department released transcripts and audio from dispatch and 911 calls pertaining to Floyd's death. According to CNN, a dispatcher watching Chauvin pin down Floyd on surveillance footage alerted their supervisor. "You can call me a snitch if you want to, but we have the cameras up for 320's call," the dispatcher said. "I don't know if they had to use force or not, but they got something out of the back of the squad, and all of them sat on this man, so I don't know if they needed you or not, but they haven't said anything to me yet."
The MPD also publicized 911 calls from witnesses, one of which reportedly came from an off-duty firefighter who said, according to CNN: "I literally watched police officers not take a pulse and not do anything to save a man, and I am a first responder myself, and I literally have it on video camera. … I just happened to be on a walk so, this dude … they fucking killed him." The other caller said officers "pretty much just killed this guy that wasn't resisting arrest. He had his knee on this dude's neck the whole time."
The officer who physically assaulted Floyd had a history of complaints against him
NBC News reported on Wednesday that the officer seen kneeling on Floyd's neck in the video, Derek Chauvin, has been with the department 19 years. During that time, he's been the subject of numerous police-conduct complaints, including several use-of-force incidents, none of which resulted in discipline of any kind. According to CNN, of the 18 complaints filed against Chauvin, only 2 were "closed with discipline" — discipline, in this case, amounting to a letter of reprimand.
Records show that in 2006 Chauvin was one of six officers who responded to a stabbing in a Minneapolis home. According to police, the suspect, a man named Wayne Reyes, was armed with a shotgun, and "several officers fired multiple shots" and killed him. The investigation does not clarify which officers fired or whether Reyes threatened them in any way.
In 2008, the Pioneer Press reported that Chauvin shot a 21-year-old man named Ira Latrell Toles, who according to the incident report resisted arrest after police were called on a domestic-assault tip. Toles was not armed, although according to police (there are no other witnesses on record in the Pioneer Press report), Toles reached for Chauvin's gun. Earlier that year, Chauvin had been awarded a department medal of valor "for his response in an incident involving a man armed with a gun." Chauvin was placed on leave during each of these incidents and several more times, which is standard procedures when an investigation into police conduct is underway. According to NBC, Chauvin was the subject of several complaints listed in Minneapolis's Office of Police Conduct database, the details of which were unavailable; none resulted in disciplinary action.
According to CNN, another of the MPD officers present on Monday, Tou Thao, had six complaints in his file, five of which were closed without discipline. He has also been named in an excessive force lawsuit: In 2017, a man named Lamar Ferguson sued Thao and another officer for their "cruel and unusual" behavior during a 2014 arrest, CNN reports. Ferguson says he and his girlfriend — who was pregnant at the time — were walking home from his grandmother's house when the pair pulled up in their squad car. They allegedly told Ferguson there was a warrant out for his arrest, and although that was untrue, Ferguson said the officers nonetheless subjected him to "punches, kicks, and knees to the face and body while Ferguson was defenseless." His injuries were severe enough to require hospitalization, and the city ultimately settled with Ferguson and his lawyer for $25,000.
Floyd and Chauvin reportedly knew each other and had "bumped heads" in the past
On Wednesday, CBS News reported that Floyd and Chauvin knew each other and that their relationship had been antagonistic. The outlet spoke to a former co-worker of Floyd and Chauvin, named David Pinney, who said they both had security jobs at the same nightclub for a time.
Pinney told CBS News that the two "bumped heads." When asked in what way, Pinney responded, "It has a lot to do with Derek being extremely aggressive within the club with some of the patrons, which was an issue." When pressed if "there is any doubt in your mind that Derek Chauvin knew George Floyd," Pinney responded, "No. He knew him." Asked about the degree to which the two knew one another, Pinney said, "I would say pretty well."
Floyd's family has said they believe that Chauvin should be charged with murder in the first degree (he is currently charged with murder in the second) "because we believe he knew who George Floyd was."
Chauvin has been arrested, and the other three officers have also been charged
Mayor Frey announced on May 26 that the four responding officers had been terminated. Minneapolis police chief Medaria Arradondo said in a press conference the same day that the FBI will be investigating the case as a possible civil-rights infringement.
On May 27, Frey called for Derek Chauvin to be arrested and charged. "Why is the man who killed George Floyd not in jail?" he demanded at a press conference. "If you had done it, or I had done it, we would be behind bars right now." Then, on May 29, Public Safety Commissioner John Harrington confirmed that Chauvin had been arrested in the death of George Floyd and taken into custody. Later, the county attorney announced he had been charged with third-degree murder and manslaughter.
Attorney General Keith Ellison — who took over the case on May 31 — upgraded the charges against Chauvin on Wednesday and implicated the other three officers present in Floyd's death. Ellison elevated the murder charge against Chauvin to second-degree murder; he also charged Thao, Thomas Lane, and J. Alexander Kueng with aiding and abetting second-degree murder, NBC reports. Ellison previously stated that he intended to hold all four former MPD officers to "the highest degree of accountability that the law and the facts will support."
Following the news, the Floyd family's attorney, Benjamin Crump, issued the following statement: "This is a bittersweet moment. We are deeply gratified that A.G. Ellison took decisive action, arresting and charging ALL the officers involved in George Floyd's death, and upgrading the charge against Derek Chauvin to felony second-degree murder."
On June 8, Circuit Court Judge Jeannice Reding raised Chauvin's unconditional bail from $1 million to $1.25 million, in line with assistant attorney general Matthew Frank's argument that the "strength of the community's opinion" and the gravity of the charges make Chauvin a flight risk. The conditions attached to a $1 million bail — which Reding increased from $750,000 — prohibit Chauvin from contacting Floyd's family, leaving the state, possessing firearms or firearms permits, and working "in a security capacity," according to CBS. He would also have to appear at every court hearing going forward.
On June 10, Lane left the Hennepin County Jail on bond, after his family crowdsourced enough money online to pay his $750,00 bail. Lane, a rookie, was reportedly serving his fourth shift when he and his colleagues arrested Floyd.
At a hearing on June 29, Hennepin County Judge Peter A. Cahill tentatively scheduled the officers' trials for March 8, without ruling on whether they will be tried together or separately. Cahill also set a pre-trial hearing for September 11, reportedly warning both attorneys and officials against opining to the press about the case. The defense had argued that this kind of public commentary would make it difficult to select an impartial jury.
Floyd's family requested an independent autopsy
Preliminary autopsy results from the Hennepin County medical examiner's office challenged the idea that Floyd died from asphyxiation alone. Instead, in the criminal complaint against Chauvin, the medical examiner cited "underlying health conditions including coronary artery disease and hypertensive heart disease," saying those — in combination with "any potential intoxicants" in Floyd's system and Chauvin's restraint — likely killed him.
"The family and I reject this notion … that the knee from the police officer on George's neck for almost nine minutes was not the proximate cause of his death," civil rights attorney Benjamin Crump told CBS News after the preliminary results were released. Floyd's family commissioned an independent autopsy, enlisting Dr. Michael Baden and Dr. Allecia Wilson to conduct their own investigation. On Monday, Crump announced that Baden and Wilson judged Floyd's death a homicide, saying the pressure on his neck cut off blood flow to his brain, while the pressure on his back interfered with his ability to breathe.
On Monday evening, the medical examiner's office released its official findings, ruling Floyd's death a homicide. As the cause of death, it listed: "Cardiopulmonary arrest complicating law enforcement subdual, restraint, and neck compression."
The full autopsy report came out on Wednesday, nine days after Floyd died, and notes that Floyd tested positive for the coronavirus on April 3. A postmortem nasal swab on May 26 also came up positive, which the autopsy says "most likely reflects asymptomatic but persistent PCR positivity from previous infection."
Minnesota filed a civil-rights charge against the MPD
On June 2, the Minnesota Department of Human Rights launched an investigation into the Minneapolis Police Department. Governor Tim Walz said that filing the civil-rights charge of discrimination will mean a state review of the MPD's "policies, procedures and practices over the last 10 years to determine if the department has utilized systemic discriminatory practices towards people of color."
Walz — who, the weekend after Floyd's death, warned protestors that if they did not get off the streets before a curfew went into effect, that law enforcement and the National Guard would "use the full strength of goodness and righteousness to make sure that this ends" — continued:
Silence is complicity. Minnesotans can expect our administration to use every tool at our disposal to deconstruct generations of systemic racism in our state. As we move forward, we ask the community to watch what we do, not what we say. It is going to take action at all levels from the neighborhood on up, to get the change we need to see. This effort is only one of many steps to come in our effort to restore trust with those in the community who have been unseen and unheard for far too long.
Speaking Tuesday, MDHR Commissioner Rebecca Lucero reportedly added that "George Floyd should be alive," and noted that "for our city to begin healing, we need to deliver justice for George Floyd and his family and enact deep, meaningful policing reforms."
Friends and family remember Floyd: "He gravitated toward the less fortunate"
In the days following Floyd's death, many of his friends and family grieved publicly, posting remembrances on social media. They described Floyd as magnanimous and beloved, a talented athlete and hip-hop artist who was born in North Carolina and grew up in Houston, and moved to Minneapolis around 2018 and found work as a truck driver and bouncer.
Floyd's cousin, Tera Brown, told CNN that Floyd was "a very loving person." Vanita Williams, a friend of Floyd's who met him through his work driving trucks and doing security work at a Salvation Army homeless shelter, told BuzzFeed News that Floyd was like a big brother to her, and that she observed his generosity often. "He gravitated towards the less fortunate, the downtrodden, the ones they said wasn't going to make it," she said, adding that he was fond of giving those struggling whatever resources he could — a few dollars, new clothes. Wiliams said that Floyd "was grounded. He was spiritual. He was an athlete. He was an organizer. He was a comforter. He was an encourager. I could just go on and on and on about who he was."
Former NBA player Stephen Jackson, who grew up with Floyd in Houston's Third Ward, posted about his death on Instagram, writing, "These days the only crime U get killed for is Being Black. Rest Easy Twin. Starting tight end 92. Made it to state championship," and in another post, "All we talked about was growing and kids." He also wrote that Floyd "couldn't wait to tell me he moved to Minnesota to work and drive trucks. He knew he had to relocate to be his best self."
Jovanni Thunstrom, who employed Floyd at the Conga Latin Bistro in Minneapolis, told local news station KSTP that Floyd would drive intoxicated patrons from the restaurant to make sure they got home safe. Thunstrom said that watching footage of Floyd's assault was painful for him, "Because he wasn't only an employee. He was my friend. He was my tenant. Everyone here loves him."
There will be a March on Washington in Floyd's memory
At Floyd's memorial service in Minneapolis on Thursday, Reverend Al Sharpton made an announcement during his eulogy: There will be a march on Washington, D.C., on August 28, the 57th anniversary of the original March on Washington, where Martin Luther King Jr. gave his "I Have a Dream" speech in front of the Lincoln Memorial. According to journalist Wesley Lowery, the "details and planning [are] still in the early stages," but the march will call attention to the need for federal policing equality policy.
This post has been updated.