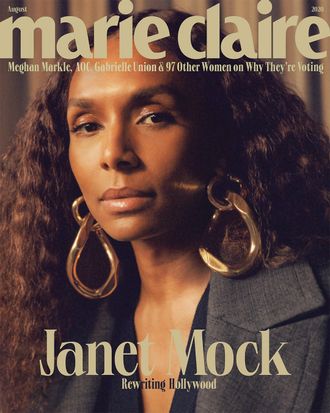 In 2011, Janet Mock entrusted Marie Claire with her coming-out story, but she's still not sure that trust was earned. At the time, she did an interview with the writer Kierna Mayo, and the magazine ran it as an as-told-to essay. "I Was a Boy," read the headline, followed by a sensationalized caption that spoke of Mock's sexuality as a "remarkable secret that she's kept from almost everyone she knows."
In retrospect, Mock says she has a "bittersweet" relationship to the piece. For Marie Claire's August digital-issue cover story, she sat down (over Zoom) with writer Kimberly Drew to reflect on that earlier article. The two also discussed the present movement for Black trans lives and how Mock — a writer, television host, director, producer, and transgender-rights activist — is now telling and developing stories in Hollywood.
"[Doing the story in 2011] was an intentional decision but one that I kind of felt like I backed into, in a way, that did strip me of agency and voice," Mock recalls. Having a mainstream platform like Marie Claire did feel like a big deal back then. Mock had put herself in the shoes of a 12-year-old Black or brown trans girl reading her story — one about a "pretty Black woman who's living this great life in New York City," as she describes it, with a boyfriend and a job, who's smiling and "not being forced to just talk about trauma" — and she knew it would mean something to them. The piece also thrust Mock into the public eye, though this wasn't her intention.
But … that headline. The caption. The overall angle. "I kind of know how [editors] have to package things in order for [white cis] people to stop on the page, especially with a Black woman on it," she says. "So it was that whole drama that they've always wrapped trans stories in for so long. Those are the things that still sting me today."
It's rare for a magazine to look both backward and inward — recognizing where it has gone wrong and trying to make a correction — but it seems to be happening more often now. In June, Anna Wintour took "full responsibility" for the past mistakes at Vogue, acknowledging the magazine has "publish[ed] images or stories that have been hurtful or intolerant."
Marie Claire's Aya Kanai told the Cut, "With all that's occurred in our world this year, and as the new editor-in-chief to the brand, I felt honored to be able to reflect on how we, and all women's fashion magazines, could better tell LGBTQ stories." She added, "I have deepest respect and admiration for everyone who has been a part of Marie Claire, and Janet (as she stated in the piece) does as well, but that doesn't mean we can't look at the past from a new lens. That's good journalism. My hope is that our audience recognizes our evolution as a magazine and continues to grow with us."
Mock has maintained her relationship with Marie Claire since 2011 and currently serves as a contributing editor, so she didn't need convincing. But Kanai wanted her to be involved with the creative process for the new story. Mock suggested the cover photographer, Luke Gilford, and approved of the writer. "The images and story are so personal and intimate I can't imagine it being done another way," Kanai explained. The shoot took place (safely) during the pandemic with a small crew at the photographer's home in Los Angeles.
As for the rest of the digital issue, Mock is in great company. Three of Broadway's biggest stars — Brittney Johnson, Alexia Khadime, and Kimberly Exum — had a roundtable discussion about dismantling the systemic racism in their industry. And with fewer than 100 days until the 2020 election, Marie Claire asked 100 women, including Michelle Obama, Meghan Markle, and Oprah Winfrey, to share why they're heading to the polls in November.
"I've been thinking a lot about how to play with the magazine model — how to capture the joy I felt as a young person being able to dive into an issue," said Kanai. She wanted to replicate that feeling digitally but also push it to someplace new. In print, for example, she never would have been able to fit 100 different interviews; that would have been the whole magazine. But "digitally, we were able to give each woman the space they deserve," she said.