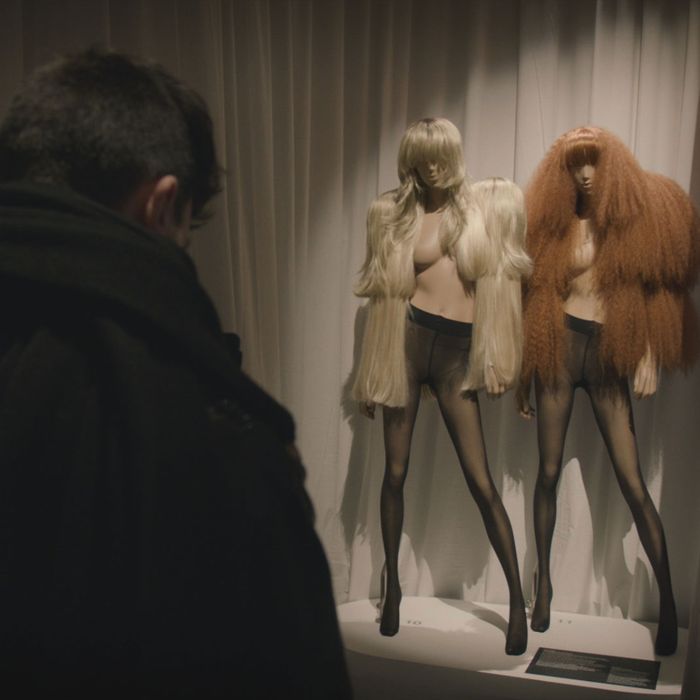 Some of Margiela's most famous designs at the 2018 retrospective of his work at Maison Martin Margiela at the Palais Galliera in Paris.
Photo: Courtesy of Oscilloscope
Who was Margiela? Or — if Margiela, like data, is one of those nouns we assume to be singular but in fact more accurately represents a collective — who were? The man himself, Martin Margiela, has made a career of not telling. Since the very earliest days of Maison Martin Margiela, the label he founded with Jenny Meirens in 1988, Margiela has refused to speak to the press about his work, creating a haze of mystery even his unannounced retirement 20 years later didn't pierce; in an industry electrified by flashbulbs, almost no photos of him exist. All of this has only burnished his legend: in silence, Margiela has spent decades as one of the loudest voices in the room.
Into this emptiness rides Reiner Holzemer's new documentary, with its tantalizing subtitle: Martin Margiela: In His Own Words, which premieres for streaming rental today. For the fashion-obsessed who live with Margiela's trademark white stitches pledging allegiance from their backs, since the collected wit and wisdom of Martin Margiela, as it exists to date, could be printed in full on a small napkin. For the most complete profile of him yet written, by Rebecca Mead in the New Yorker in 1998, he consented to answer questions only by fax. "Margiela's fax persona," Mead wrote, "which declines to answer any personal questions, is by turns good-natured, pedagogical, disengaged and resolutely unreflective." She quoted Barbara Weiser, the co-owner of the departed Manhattan boutique Charivari, which hosted an event for Margiela and Meirens early on. The deliberations were so secret, Weiser said, that "at some point, I felt as if we were working on the atomic bomb."
The promise of Margiela onscreen is almost too good to be true — and, as it turns out, basically is. Margiela's own words come to us in his own voice: warm and gravelly. The reveal ends there. Like a man in witness protection, Margiela can be heard but not seen; the camera pans lovingly over his hands and hairy forearms, as they page through journals and sketchbooks, boxes of souvenirs. "Sometimes I regret that I had to take this decision to save myself," Margiela says of his anonymity. "I know I could give more if I felt protected."
Margiela gave much to fashion. He adapted the deconstruction of the Japanese designers who took Paris by storm in the 1980s, principally Rei Kawakubo, and deflated much of the hysterical excess of French fashion of the time (including that of Jean Paul Gaultier, whom he assisted for years). He brought in a reverence for historical garments and cast-off vintage (much of which he would later repurpose into his Replica line), which came with an agnostic's appreciation of the low as well as the high. Before every designer in fashion cast models from real people on the street, before they showed their collections in decaying industrial neighborhoods or decommissioned subway stations, Margiela did. The list of designers in his debt today is long. His name became synonymous with conceptual fashion, in its most intellectual, and occasionally willfully absurd, form.
The film gives good play by play of the Margiela milestones, the way he "put everything else out of fashion," in the words of the former Paris Vogue editor Carine Roitfeld. But much of this is well-known. For all his reticence, Margiela has not been shy about accepting credit where it is due. A pair of retrospectives in Paris — of his work for Maison Martin Margiela at the Palais Galliera, and of his work as creative director for Hermès from 1997 to 2003 at the Musée des Arts Décoratifs — opened in 2018; at the former, Margiela painted each Tabi-booted cloven-hoof print himself. Like his fellow rebels Westwood and Kawakubo before him, Margiela has been enshrined in the establishment canon.
And so, opportunity of the film is not to make the case for Margiela, but to finally let him fill in the blanks himself. It's a letdown to find him barely more reflective here in voice-over than he was in those faxes to the New Yorker. Much of what he has to say has the bland brevity of wall text. Margiela rode out the end of fashion as he knew it — the end of feasibly remaining independent, the end of fashion as a niche art form, the end of fashion off-line — and says little of it, except for the brief, rueful observation that he knew things were changed irrevocably when runway show photographs began appearing on the internet the day of the show. He is diplomatic about Renzo Rosso, the owner of Diesel, whose Only the Brave acquired a majority stake in Margiela in 2002; it is Nina Nitsch, Margiela's longtime assistant and eventual successor, who is left to sneer as the subsequent invasion of brand consultants and marketers pushing "a whole new vocabulary … things like 'sexy,' 'chic,' 'modern,' et cetera." (Chez Margiela, these banalities might as well be slurs.) "At the end, I became, in a certain way, artistic director in my own company," Margiela says mildly. "And that bothered me." The night of his 20th anniversary show in 2008, he left, more or less without a good-bye. In the 12 years since, fashion has become even more corporate, more hectic, the demands more punishing and the cycles faster. What must the ultimate self-directed designer think about that? We hardly know. Instead, Holzemer shoots him drawing with a marker on a blank sheet: "Thanks for everyone who helped me make my dream come true!"
So, much is left unsaid. Margiela being Margiela, it seems silly to have hoped it could've been otherwise. The experts opine — besides Roitfeld, Holzemer gets Pierre Rougier, Margiela's early attaché de presse; Carla Sozzani, the pioneering retailer of 10 Corso Como; and the Cut's Cathy Horyn — but Margiela, working away in his studio, gives little. Of Meirens, one of his most important supporters and early champions, little is discussed and less revealed — and nothing at all of the fact that, before her death in 2017, she appeared in a competing documentary of the Margiela years, We Margiela, in which he did not appear. Of Rosso and the acquisition, a polite nod. About John Galliano, the great, disgraced then redeemed couturier, in whose care the house (rechristened simply Maison Margiela) is now entrusted, nothing at all. In this era of ersatz "authenticity" and force-marketed brand narratives, Margiela's insistence on his right to privacy and discretion can be read as admirable. But when the Sphinx finally speaks and reveals so little, the frustration lingers. We leave Margiela at the end sketching away in his studio, a refugee from fashion reduced to a pair of hands, not much closer than we were before.
Or are we? What Martin Margiela: In His Own Words offers the faithful — those who don't need to be told that Margiela borrowed the Tabi boot from Japanese slippers, who know the broad strokes of his work without a film, and who are, let's be honest, in all likelihood the only audience for one anyway — is a glimpse into the boy who became the mystery man. He reminisces about learning to sew as a child at the knee of his grandmother, of being enraptured by a television program featuring Courrèges. There is something sweetly kitsch about the young Martin's drawings and paintings, dated 1973, of a young Brigitte Bardot, more po-faced and sincere than any that would follow. But back farther still, there is the germ of the designer in bud. Long before the wig coat, before Margiela the haute couturier, there was just little Martin, a devotee of style, whose father was a hairdresser, whose mother sold wigs out of the back of the shop. He and his grandmother would sew outfits for his dolls. His mother, Léa Bouchet, kept them all, and here they all are: the would-be Cardins, the tiny flannel blazer. Behind the avant-gardist, somewhere inside the self-styled cloud of mystery, ignoring every personal question posed by fax, is that small boy, directing his own atelier of two, fashioning his looks with a tiny, candy-floss wig, dyed with vinegar to match. Just as they would later, the clothes do the talking.