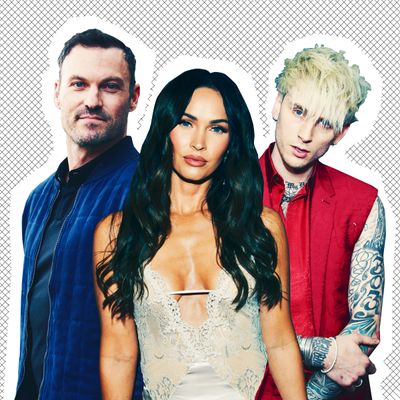 Megan Fox has been a boundary pusher when it comes to showing the world how much one can actually accomplish during quarantine. While you were discovering how difficult baking is and getting into TV shows that aired two decades ago, this incredible woman left her husband of ten years and started dating Machine Gun Kelly. Inevitably the situation, so full of promise and freedom at its beginning, has become a tad frayed around the edges. What I mean is, it's made its way to Instagram — not a happy place.
On Wednesday, Fox posted an intimate picture of herself and Kelly posing in front of a mirror wearing towels with the caption "Achingly Beautiful Boy… My heart is yours." It's not the first time Fox has confirmed her relationship with the musician. The two have consistently been spotted together and Fox appeared one of his music videos in May. Earlier that month Fox's ex, Beverley Hills 90210 actor Brian Austin Green, posted a picture of a butterfly to Instagram with a caption alluding to his separation from Fox. "Eventually butterflies get bored sitting on a flower too long. They start feeling smothered. It's a great big world and they want to experience it," wrote Green.
If butterflies get bored of flowers, Instagram apparently provides more enticing distractions. Green — who, by the way, does not follow Fox on Instagram — apparently saw the post and was supremely un-chill about it. Rather than simply saying nothing, Green responded with his own "Beautiful Boy" post … of his kids, three of which he had with Fox. He captioned the images of his four sons "Achingly beautiful boys….my heart is yours."
Why is this cringe? Simply because it is fails on all accounts to be light and funny although it does have strong Kramer vs. Kramer vibes. I am once again begging everyone to log off.