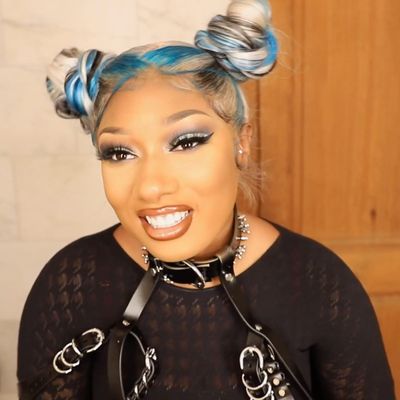 Photo: Courtesy of Megan Thee Stallion/YouTube
Just last week, Megan Thee Stallion released "WAP," her new single and video with Cardi B, and hot girls rejoiced. Today, Megan released another video that's sure to become iconic: her first-ever beauty vlog and tutorial.
In the video, Megan, who is Revlon's newest global beauty ambassador, wears blue-raspberry-hued space buns, artfully swishes and highlights, and goofily mugs for the camera while executing a sharp cut-crease look complete with flawlessly executed cat-eye liner. She calls it a "'You're getting nothing past me' eye," designed to make your eyes look big and extra-scrutinizing to any paramours who may try to pull a fast one on you.
Over the course of 17 minutes, Megan dispenses some invaluable beauty tips. She recommends carrying eight lip glosses in your purse, just like she does. If you're waiting for a product to dry on your eyes, she advises looking down and picturing the men who "disgust you." And if you really want your cut crease to be popping, she suggests using a concealer that is one shade lighter, particularly if you have oily skin.
Let's celebrate this glorious time in beauty, when we can "get ready" with some of our favorite pop stars.