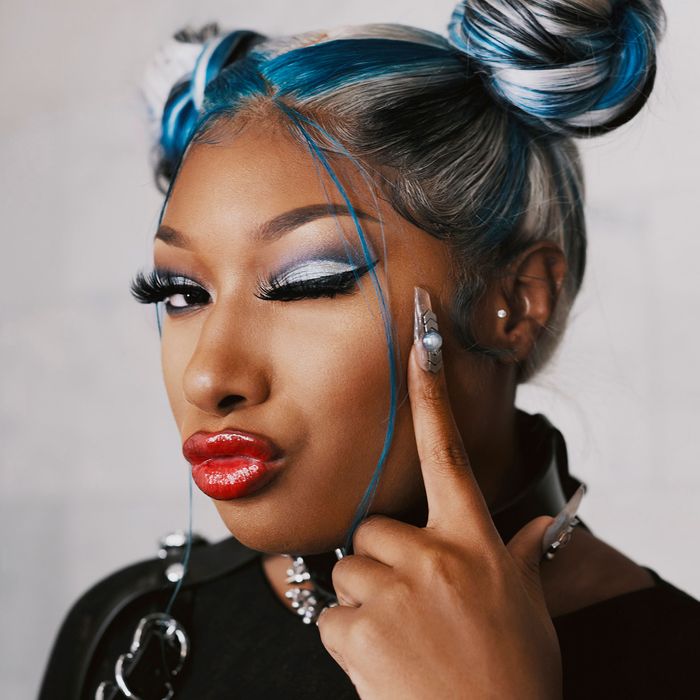 Megan Thee Stallion in Revlon.
Photo: Flo Ngala. Courtesy of Revlon
New York is physically hotter than it's ever been, and yet the past few months have felt like a far cry from 2019's Hot Girl Summer. Thankfully, Megan Thee Stallion, the vibe's maker, is here to remedy some of that with another dose of metaphorical heat.
Today it was announced that the breakout artist is Revlon's newest global brand ambassador. In her new role for the iconic beauty brand, Megan reassures all her "hotties" that she has "some hot things coming soon." The first look at the new campaign, which features a beauty look completely done by the makeup artist extraordinaire herself, is an excellent example.
Megan's campaign will roll out this month, though things have been simmering since 2019. "When we first approached her about a partnership nearly a year ago, we were drawn to her confidence and fierce ambition as much as her power to hold nothing back," Silvia Galfo, Revlon global brand president, said in a press release. "She loves to express herself with makeup and is a constant inspiration to her fans on living boldly. It's that authenticity and unapologetic spirit that we admire, and we are thrilled to welcome her to the Revlon family."
"To me, the Revlon brand stands for both beauty and female strength, and I'm excited to help define what that means to a new generation of women," Megan said in the statement. "I've always set the bar high for myself with everything I do, but to now be a brand ambassador for Revlon, it feels like a new level." Other noted levels completed by the artist include giving the world a TikTok anthem to dance to while indoors and very much alone and starring in this glorious cover art with fellow beauty enthusiast Cardi B for a surprise single dropping tomorrow.