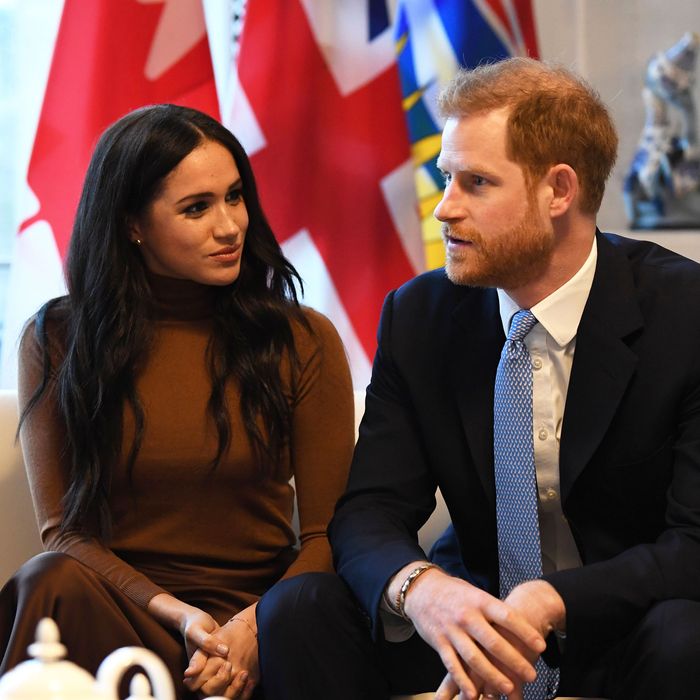 Photo: Daniel Leal-Olivas/AFP via Getty Images
Since stepping down as senior royals, Meghan and Harry have made it clear that they intend to get jobs and work in a capacity that they were not able to while part of the core group of royals. And ever since they moved back to the U.S., there have been rumors that the couple is looking to get back into Meghan's former industry: Hollywood.
According to Variety, Harry and Meghan have been pitching something — we don't know what — to a bunch of major media  companies. It's unclear whether it's for TV, film, or is a documentary, but whatever it is, the site says that the couple will be jointly producing it. Variety also noted that Meghan will not be acting in it, and that none of the platforms it reached out to, including NBCUniversal and Disney, responded to its requests for comment.
Meghan, who worked as an actress for over a decade before marrying Prince Harry, got the ball rolling on her return to Hollywood when she narrated a docuseries about elephants for Disney+ in April. (She seems to have landed the gig after Harry pitched her narration skills to former Disney chairman Bob Iger at the London premiere of The Lion King last summer.) Harry, too, has dabbled in Hollywood, and teamed up with Oprah for a mental-health-focused docuseries for Apple last year.
As of now, what we do know is that the couple is settling into their new home in Santa Barbara, California, because Prince Harry apparently "absolutely hated" living in L.A.