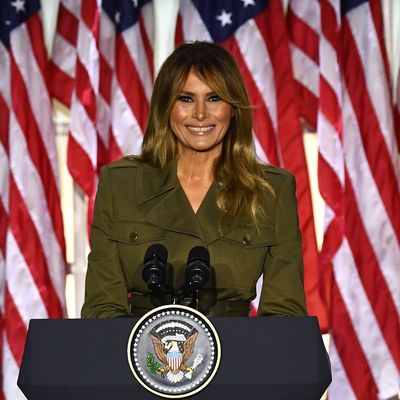 Photo: Brendan Smialowski/AFP via Getty Images
On Tuesday night, the White House Rose Garden was Melania Trump's runway.
For her speech on day two of the Republican National Convention, the First Lady wore a $2,450 tight-fitting green military jacket by the British designer Alexander McQueen, which she paired with a matching pencil skirt ($890) and cinched at the waist with a thick belt. Observers immediately compared her outfit to a Girl Scouts uniform or that of Steve Irwin the crocodile hunter, but standing at the podium in front of a wall of American flags, the message she seemed to be sending was much more sinister.
Green military jackets are not a new fashion item. If this look was worn by someone else in a different context, it would likely not be cause for alarm. (And McQueen likely did not predict it landing at the RNC.) But because this is Melania Trump we're talking about — someone whose clothes often speak for her — and because she chose to wear this look to a convention with a particularly loud "fascist timbre," it's hard not to read the look as dictator cosplay.
Who knows what she was thinking; maybe she just thought it looked good. Melania may not have screamed into the void the way her stepson's girlfriend Kimberly Guilfoyle did — in fact, her tone and words were comparatively modest — but her outfit spoke volumes, and the effect was just as frightening.