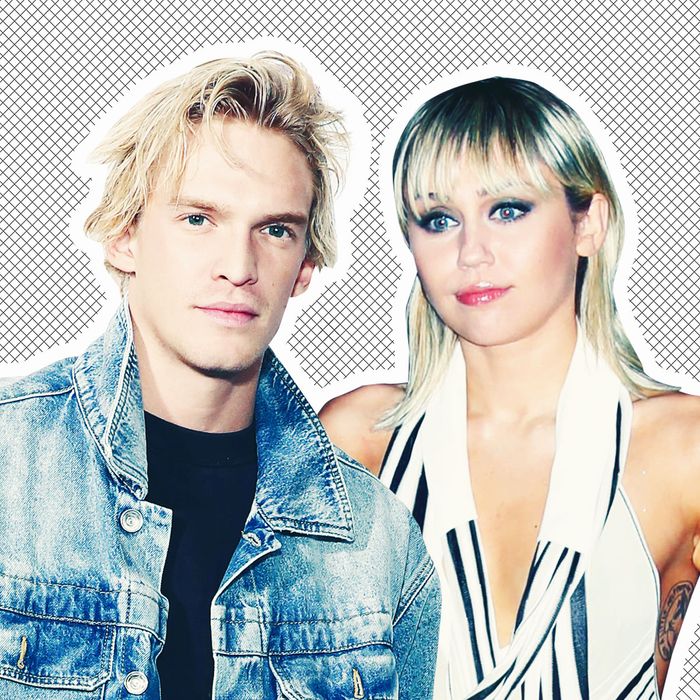 Cody Simpson and Miley Cyrus.
Photo: Getty Images
Just ten months after Miley Cyrus posted on her Instagram story that Australian singer Cody Simpson has everything she wants in a partner ("22 [check] Australian (my type) [check] Abs [check],") the pair have reportedly split.
After "Page Six" and TMZ began to report that "sources close to the former couple" said that they were done, TMZ shared a video of Cyrus in which she appears to confirm the breakup, saying, "Right now, two halves can't make a whole and we're individually just working on ourselves to become the people that we wanna be."
The singer and recent mullet icon added that although their romantic relationship had ended, she and Simpson would likely still hang out, because they've been close friends for over a decade, and that the public shouldn't make it "some drama story if next week we're out, hanging out, or getting pizza."
The pair were first linked in October 2019, when photos emerged of the two making out during an "acai bowl outing in L.A." Cyrus quickly confirmed the news by posting extensively about their relationship on social media. "BF coming to visit me @ the hospy," she shared in an Instagram story while she was hospitalized for tonsillitis.
Prior to dating Simpson, Cyrus had been briefly married to actor Liam Hemsworth, with whom she had had an on-again, off-again relationship since 2009. (In an interview on the podcast Call Her Daddy this week, Cyrus said that Hemsworth was the first man she had ever gone "all the way with.") The two wed in December 2018, and then reportedly filed for divorce less than a year later. In August 2019, Cyrus was spotted on a yacht making out with Brody Jenner's ex, Kaitlynn Carter. Their relationship dissolved shortly after, and a couple of months later, Cyrus was Insta official with Simpson.
Best of luck to the former couple, and we can only hope this will inspire Simpson to write a follow-up to his April book of poetry, Prince Neptune.