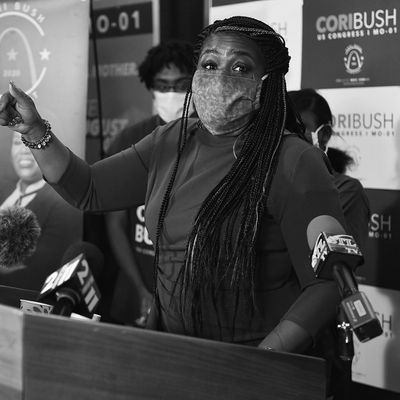 Photo: Michael B. Thomas/Getty Images
Cori Bush, a House candidate in Missouri, took down a powerful incumbent last night in a primary result that feels practically seismic. Not only will Bush, a Black Lives Matter activist, almost certainly be the first Black woman to represent Missouri in Congress, her victory also feels like a signal that things are fundamentally, profoundly changing for the Democratic Party. It's possibly the most exciting win by a progressive challenger in the two years since Alexandria Ocasio-Cortez broke the mold.
Bush fought a years-long battle for her new seat. A nurse and pastor who became politically active in 2014 as a protester in Ferguson, where Black Lives Matter was born, she ran for the U.S. Senate in 2016 and lost. She lost again as a House candidate in Missouri's First District in 2018. Like AOC, she ran with the backing of insurgent grassroots group Justice Democrats, on progressive racial- and economic-justice platforms like Medicare for All, free college, a Green New Deal, and abolishing ICE. She even appeared with Ocasio-Cortez in the documentary Knock Down the House, which followed four female candidates as they tried to primary Democratic incumbents that year. But Bush was unable then to knock down her opponent, William Lacy Clay, who is a hugely powerful member of party leadership in the House. Though Clay and Bush share some policy positions (he also supports Medicare for All), he has big ties to corporate donors (his top campaign contributor is mortgage giant Quicken Loans). He's also part of a political dynasty. Clay has held the seat since 2001, when he won election after his father retired. Together, the two have held the seat for the last half-century. Bush, by comparison, was once homeless after she and her ex-husband were evicted from their home.
Two years later, even with her bigger platform, buoyed by more wins by progressive challengers across the country, Bush's candidacy was still considered an incredible long shot. Among big names on the left, she was endorsed only by Bernie Sanders; her opponent was endorsed by the likes of Planned Parenthood, Kamala Harris, and even the Congressional Progressive Caucus. While Clay touted his relationships with House leadership and longtime community fixtures as assets, he dismissed Bush's support from Justice Democrats as a reason to consider her a "prop" for outsiders. Skeptics claimed that Bush's staunch, radical positions against police brutality presented a "disconnect" with what Black voters really wanted.
All of which is to say that as more political outsiders like AOC have started to win races around the country (including Rashida Tlaib in Michigan, who also defended her seat last night), naysayers have come up with reasons that each one is still just a fluke, or can't happen outside of coastal cities, or is simply too unique to be repeated. But it is almost impossible not to see Bush's race as a referendum on the idea that the majority of Democratic voters do not want leaders that are too bold, too outspoken in Congress. That they are looking for safety. We saw this rhetoric in the presidential race around Joe Biden, too, who was propped up as a more palatable, less frightening alternative to challengers like Elizabeth Warren and Bernie Sanders, even as he scrambled to adopt many of their policies to gain relevance.
As protests against the death of George Floyd raged, Bush did not try to soften her views to appeal to more moderate voters who might support BLM but remain wary. She leaned into her role as an activist, and her identity as a Black working-class woman: She criticized the House's police-reform bill for lacking "real defund language"; she appeared on the street, protesting in St. Louis on the night that one notorious couple confronted participants with weapons in front of their mansion. She was hospitalized twice for respiratory issues. Bush branded herself unapologetically as a fighter, and it didn't push people away, even in the Midwest. It paid off. "We've been called radicals, terrorists; we've been dismissed as an impossible fringe movement," Bush said in her victory speech, during which she raised a Black Power fist. "But now, we are a multiracial, multiethnic, multigenerational, mass movement united in demanding change, in demanding accountability, in demanding that our police, our government, our country recognize that Black lives do, indeed, matter."
More evidence that Bush is the future, not a fluke, came from the very same state last night. Missouri voted to expand Medicaid. And Kim Gardner, the St. Louis prosecutor who brought charges against the couple who menaced Bush and her fellow activists, won her reelection. It might seem foreign and weird to feel some hope about the direction of this country right now, but here it is. This is what it feels like.