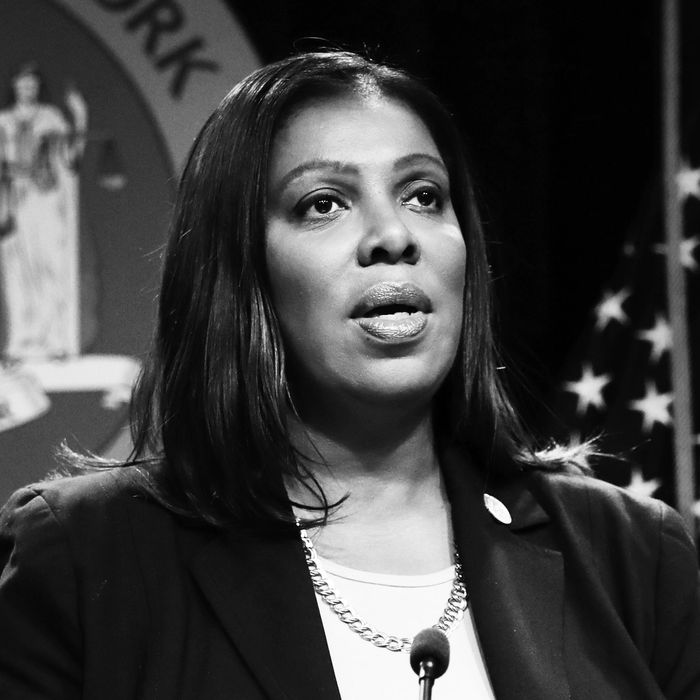 Photo: Spencer Platt/Getty Images
On Thursday, New York Attorney General Letitia James filed a lawsuit in the State Supreme Court against the National Rifle Association, claiming the powerful gun-rights-advocacy nonprofit used millions of dollars to benefit its leaders and commit tax fraud. The lawsuit boldly calls for the Trump-supporting organization, which boasts a membership of 5 million, to be dismantled and its infamous CEO, Wayne LaPierre, who has lived lavishly off his NRA stewardship, to be removed.
James's lawsuit is based on the findings of an investigation her office launched in February 2019, which, according to a press release from the AG's office, uncovered "a culture of self-dealing, mismanagement, and negligent oversight at the NRA that was illegal, oppressive, and fraudulent." Multiple outlets have also published recent reporting on issues of gross financial mismanagement within the NRA. In June 2019, the Washington Post reported that the NRA funneled money to its board members, individuals whose job responsibilities include managing the organization's finances. Reporting from The Trace in April 2019 found that a tiny group of executives, contractors, and vendors associated with the NRA pocketed hundreds of millions of the organization's dollars while, in recent years, the nonprofit ran up annual deficits of as much as $40 million.
The lawsuit demands that the court order LaPierre and three NRA deputies — general counsel and secretary John Frazer, chief financial officer Wilson Phillips, and director of general operations Josh Powell — to return funds to NRA members they defrauded. In one particularly egregious example of LaPierre's alleged hoarding of funds, the lawsuit states that he recently drew up a contract that would award him $17 million when he left his job, without so much as seeking board approval for the exorbitant sum. The AG's press release says that, in her complaint, James, "lays out dozens of examples where the four individual defendants failed to fulfill their fiduciary duty to the NRA and used millions upon millions from NRA reserves for personal use, including trips for them and their families to the Bahamas, private jets, expensive meals, and other private travel."
The organization's excesses allegedly led to a loss of more than $64 million over a three-year period, the lawsuit says. The NRA is accused of committing several violations of laws that govern charitable organizations, including falsely reporting annual filings to the IRS, improperly documenting expenses, improperly reporting taxes and wages, and paying excessive fees to workers without proper qualifications.
On Thursday the NRA released a statement saying that it would be filing its own lawsuit against James. "This was a baseless, premeditated attack on our organization and the Second Amendment freedoms it fights to defend," the statement read.
On the same day James' lawsuit was filed, the Washington Post reported that D.C.'s AG Karl Racine announced that his office would be filing a separate lawsuit against the NRA Foundation, an independent charitable institution that Racine says has potentially illegal financial ties to the NRA.