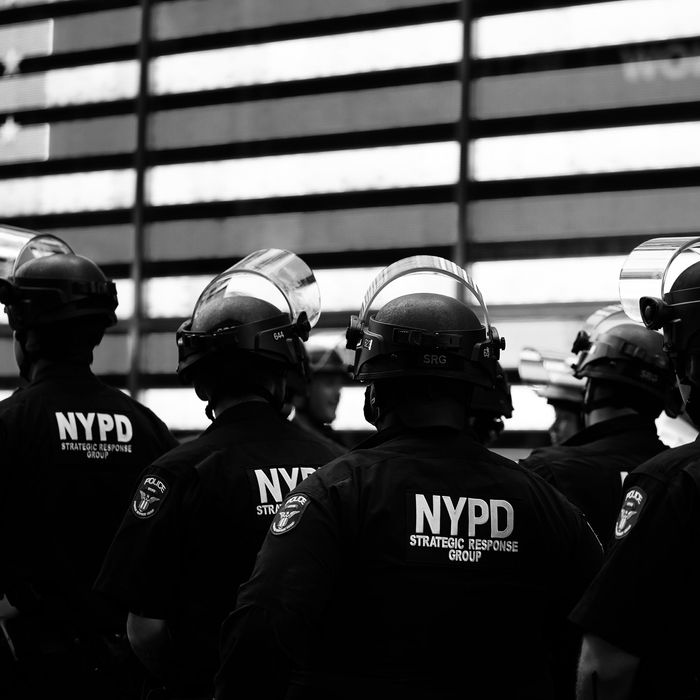 NYPD officers.
Photo: Timothy A. Clary/AFP via Getty Images
A new lawsuit alleges that the New York City Police Department has been systematically excluding female officers from the opportunity to vie for high-ranking positions, the New York Times reports.
The federal gender-discrimination lawsuit was filed in Manhattan on Monday by Lori Pollock, a former NYPD chief who quit last week due to "intolerable, difficult, and unpleasant" treatment. According to the lawsuit, after Dermot Shea moved up in the ranks of the NYPD from chief of detectives to commissioner in November 2019, Pollock — who was then in charge of the department's crime-control strategies — asked to be considered for Shea's then-vacant role.
But, while two of Pollock's male predecessors had previously received the same promotion, Pollock was instead transferred to head the Office of Collaborative Policing, which she considered a demotion; per the complaint, the reassignment deprived her of the level of authority and managerial responsibilities she'd held in her previous position. "How is it that the only woman to have served in that capacity was demoted?" Pollock said, per the Times.
The suit contends that Shea violated New York's gender-discrimination laws, and that he "deliberately implemented, condoned, sanctioned and ratified a glass ceiling policy and practice within the NYPD." Pollock is seeking compensatory damages.
In the lawsuit, Pollock argues that her experience is not unique but is consistent with the NYPD's treatment of women officers, who she says have been systematically denied leadership roles. According to the Times, while women make up 18 percent of the department's uniformed officers, a female officer has never been appointed police commissioner, chief of department, chief of detectives, or chief of patrol in the agency's 175-year history. Additionally, last year, two former police chiefs, both of whom are white women, claimed in a lawsuit that they were unceremoniously pushed out of their positions in order to provide more opportunities for younger men and minorities, which they labeled discrimination on the basis of age, gender, and race. (At the time of the lawsuit, the department called the claims "baseless.")
Per an NYPD spokesperson, the department will review the lawsuit when it is served.