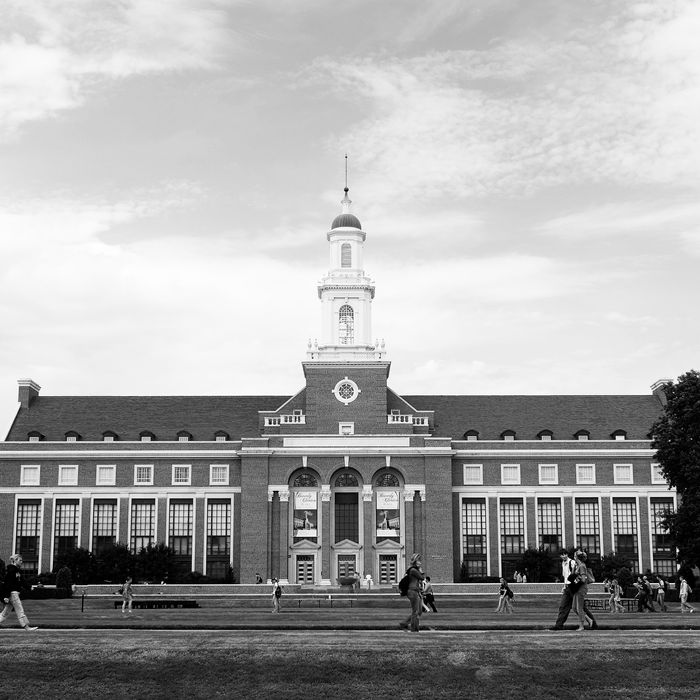 Oklahoma State University.
Photo: Wesley Hitt/Getty Images
Of all the settings that seem primed for a widespread coronavirus outbreak, fraternity and sorority houses are high up there: a bunch of fervent college students packed into a single house where they share meals, cram for exams, and chant about sisterhood and brotherhood and whatnot. So it's not exactly a surprise that we're already witnessing an eruption of coronavirus cases inside Greek houses, resulting in mass quarantines and general anxiety over the future of campus reopenings.
The most recent reported outbreak comes out of Oklahoma State University in Stillwater, where an entire off-campus sorority house has been placed under quarantine after 23 Pi Beta Phi members tested positive for COVID-19, CNN reports. According to a statement from the university, the cases were confirmed at the conclusion of recruitment week via rapid antigen testing at a campus health-care facility, and all house members are now "prohibited from leaving" isolation. As of Saturday, only one member is symptomatic.
OSU resumed in-person classes today, following two weeks of presession. In an interview with CBS News, university spokeswoman Monica Roberts said, "When you bring back 20,000 students, there will invariably be more cases related to campus." In anticipation of these surges in cases, Roberts said, the university had prepared protocols to mitigate the spread of coronavirus, and has hired a third-party contractor to disinfect Pi Beta Phi's building. The Payne County Health Department is also helping to monitor the situation.
In the past few months, colleges across the country have reported a mounting number of coronavirus cases tied to Greek houses and parties, even before in-person classes have resumed, including at the University of Mississippi and University of Southern California. In mid-July, more than 120 students who stayed in Greek houses over the summer at the University of Washington tested positive for COVID-19. In the week since the University of North Carolina resumed classes, the college has already identified four coronavirus outbreaks, one of which is linked to a fraternity house.
While some university officials have instructed sororities and fraternities to adopt measures to mitigate the spread of coronavirus — mask mandates, bans on parties, an abundance of hand sanitizer — the guidelines prove difficult to enforce. As one sorority member recently told Reuters, "We have all of these rules, but it is dependent on these kids taking it seriously. If the girls are not responsible, then this is not going to work."