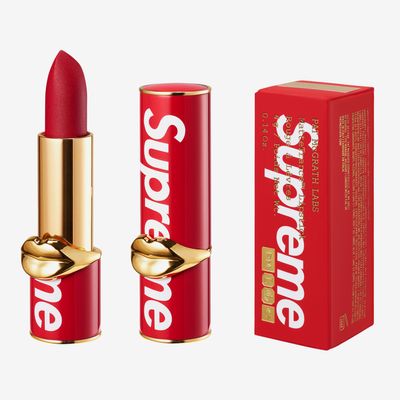 Photo: Courtesy of Pat McGrath Labs
Two years ago, rumor had it streetwear brand Supreme was dropping a lipstick, prompting a number of questions: Would the formula suck without the oversight of an actual beauty brand? Would beauty enthusiasts be able to resist swiping it on before reselling it at a totally reasonable price? The time has finally come to observe how hypebeasts worldwide react to the brand's first-ever beauty collaboration in its 26 years.
Today, the brand announced that legendary makeup artist Pat McGrath has joined forces with Supreme to create a new lipstick for their fall/winter 2020 collection. The lipstick will be red and it will be available in one red shade only: SUPREME, an "instantly iconic bright red" Mother Makeup herself designed exclusively for the brand. The lipstick will feature McGrath's luxurious, lightweight, and long-lasting MatteTrance formulation, housed in her signature, gold-lipped tube, emblazoned with the Supreme logo.
Neither a price nor an official launch date have been released, but the lipstick will only be sold online at Supreme's website, and the first drop of the F/W 2020 collection is happening this week. If the limited-edition lipstick eludes you, consider other collection items, like a tube of Supreme x Colgate cavity protection toothpaste which is also smile adjacent, or perhaps the Supreme Chucky Doll. He talks, if you're looking to expand your COVID pod.