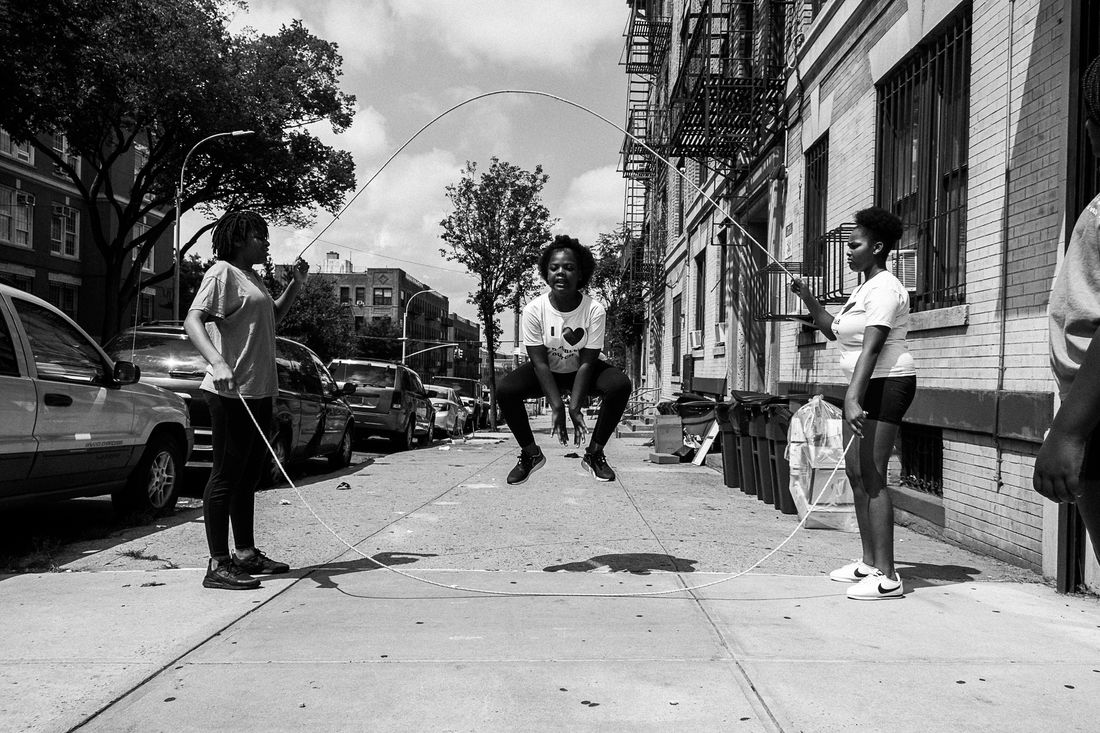 Chris Facey is a Brooklyn-based documentary and street photographer who has been capturing on film the protests for George Floyd and Breonna Taylor taking place throughout New York since May. In his newest photo series, he looks away from subjects marching in the streets screaming, "No justice, no peace," to instead refocus on moments of joy that are just as powerful and important to witness in the fight for justice. In his double-Dutch photo series, shot exclusively for the Cut, Facey explores nostalgia, building up a community through children, and Black joy.
The project started one weekend when Facey was with his daughter and decided he wanted to photograph a protest without exposing her to anything as traumatizing or heartbreaking as the work he'd already done. "I saw that they had a jump-for-justice type of protest," he says, "to come out and jump double Dutch, so I went up to Brooklyn Museum with my daughter and we went to that. They taught her how to jump, and I'm looking at everybody jump and I was like, Let me take some pictures because this is mad nostalgic. I didn't know the next time I was going to see anybody doing double Dutch, because I don't see it that often anymore." This led him to explore a whole new evolution of double Dutch he had never seen before.
"Growing up, seeing my sisters and the other neighborhood girls jumping double Dutch, they weren't doing all these tricks that I was seeing these new kids doing," Facey says. "These new kids were flipping and slamming on their backs, jumping on their butts and stuff. They were really talented, they were doing it, they were excited, they were holding each other accountable, they were raising each other up if somebody messed up. It was a beautiful scene. It just felt like an old '90s summer to me."
Facey felt refreshed by the images he was capturing, so he began reaching out to double-Dutch organizers like Laila Little-Omosawe, the founder and president of the International Double Dutch League and CEO of Jump Kids Health, and Toni Veal, the head coach of the world-champion Jazzy Jumpers, to start work on this photo series. "As a world champion and world-renowned coach, I realized that less and less teams were participating in the sport, and I didn't want to see the sport die. Therefore, I decided to start my own league," says Little-Omosawe. "Chris caught moments outside the rope that showed our love and connection to each other."
Founded in the '80s by Errol Thomas, the Jazzy Jumpers have won numerous national and international titles. Veal mentions "seeing how much the children were into seeing themselves do their craft [in Facey's photos] — not only for their own selfish purposes, but they were using some of the pictures to see certain movements and how to fix little mistakes, such as a wobbly rope. They used this moment to still teach themselves."
While the pandemic has forced most professional sports to come to a halt, the double-Dutch community hopes to be able to attend finals toward the end of the year. Scroll below to see images from Facey's refreshing photo series depicting Black joy among children playing outside, and be reminded of simpler days.