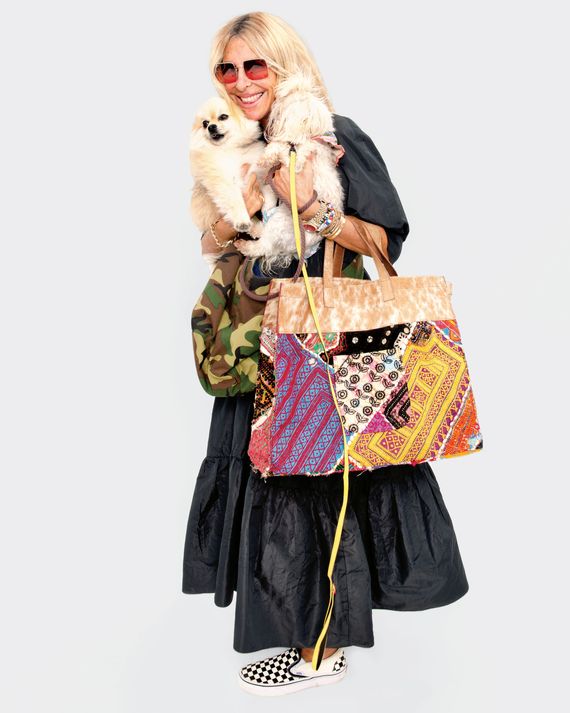 Karyn Ox.
Photo: Rochelle Brock
Karyn Ox (pictured above), Jeweler, East Hampton and Soho.
What brought you to the galleries?
Well, I guess you know a bunch of them moved here from New York, so I just decided to walk from my house to check some of them out. I've had my eye on a Keith Haring picture at Sotheby's. I've been in my East Hampton place since April. My children moved out here with their dogs in March, and I joined them. We are a quarantine pod of three dogs and five people.
And who are those two?
In my right arm is Frank the Pom, who I share with my daughter. Before the pandemic, she'd go on trips without telling me and Frank the Pom would still be at my house. I'd be like, "How did you leave? Your dog is still here." The other one is Scarlett; she's 15. I used to have Stella, too, who died last year. She was another white Maltese.
So you like Maltese?
They match my décor. I'm usually very colorful, so it's nice to have a non-colorful dog.
What's the real-estate scene been like in the Hamptons this summer?
Crazy. Like, I recently helped this strictly quarantined hedge-fund-billionaire type, who has this gorgeous $20 million estate, find a separate house just for his full-time staff.
What brings you to Pace today?
Oh, I'm not here for the art. Me and my friends are just out shopping. We were trying to go to Brandy Melville, but it's closed. So now we're going to Lululemon instead.
What'd you come to see?
Just to check out Pace. I know the owner, and my daughter randomly is interning here this summer. Having the galleries in town is a new thing, and it's so much more convenient than trekking to Chelsea.
Nice outfit.
It's mine; I design luxury sleepwear. This collection was inspired by a garden tea party. Now we're using our leftover fabric to make masks, too. We're calling them "glam masks."
*A version of this article appears in the August 3, 2020, issue of New York Magazine. Subscribe Now!