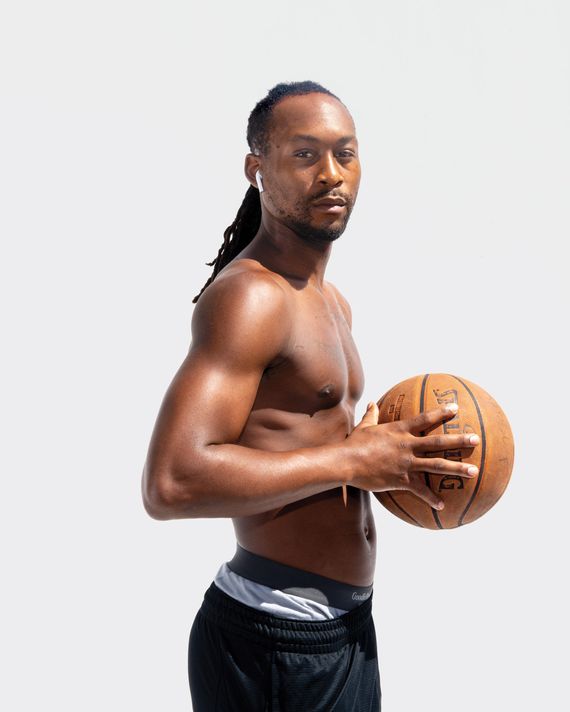 Rashad Watson.
Photo: Rochelle Brock
Rashad Watson (pictured above), Server, South Bronx.
When did you start playing here?
Three years ago, I was walking by West 4th in my gym clothes and saw it was packed. I asked Ice, who keeps the list, "Who goes next?" He said, "I dunno." I was like, "You're sitting here with the list and you don't know?" I watched three games go by, and I was like, "Yo, these guys out here are trash." And he was like, "All right, I'll put you on." The rest is history: I killed that first game. Everyone out there calls me Watts. And they call my 2-year-old son Baby Watts. My girlfriend brings him, and he walks around giving people pounds. We have a lounge where everybody chills.
Where is the lounge?
On the last handball court, under the big tree. We play spades there; some people drink and smoke. There's a guy, Leo, who has a bunch of chairs in the shade and regulates who sits in which. If you don't ask Leo for a chair before you sit in it, it's a whole thing.
Who is your biggest competitor?
I'm not trying to toot my own horn, but I'm a pretty good basketball player.
Those guys are like 26. They should be destroying me. But I'm going to keep it honest with you: I'm pretty much my own competitor.
I like your chain.
It has a picture of my mother, Robin Holden, in it. She passed away. She was my best friend.
How often do you play here?
At least three times a week for the past 30 years. Growing up, I lived in the Lower East Side, just a ten-minute walk over. I loved it. I still love it. People come from all over the city to watch, to play. One time, Nate Robinson dunked on a friend of mine. It's a good vibe.
You're an actor?
Yeah. Actually, my hair is bleached like this because I used to be Odell Beckham Jr.'s stunt double for Nike. It was a lot of pressure — I had to run up steps, do bench presses. Me and Odell became cool. I gave him my business card, but I should've gotten his number.
*This article appears in the August 31, 2020, issue of New York Magazine. Subscribe Now!