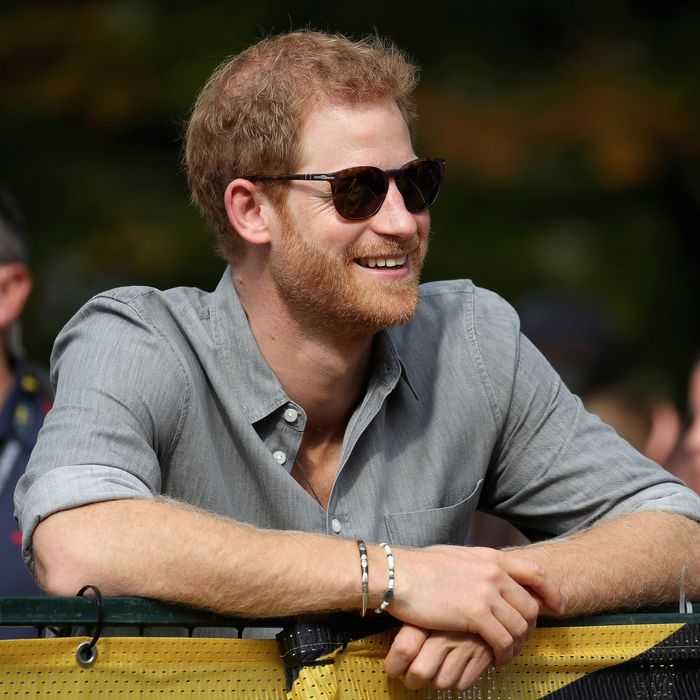 A cool dude in a loose mood?
Photo: Chris Jackson/Getty Images for the Invictus Games Foundation
Even before Prince Harry and Meghan Markle made their bombshell exit from royal life, the rumored plan was always to establish a home base in Los Angeles, so Baby Archie could "grow up understanding his American roots." Not so surprising, then, that the Duke and Duchess of Sussex headed straight to Meghan's hometown after a brief, wintery stint in Canada, and commenced house-hunting, so it was a little surprising that they wound up buying in Santa Barbara, about 100 miles away. And while their new home is indeed very fancy, it apparently wasn't the lure of an unfathomable 16 bathrooms that drove them up California's coast, but Harry's reported hatred of L.A.
According to Us Weekly's sources, Montecito — where the former royals ultimately landed — "was always an option." Apparently, Meghan visited as a teen "and fell in love with the picturesque scenery and stunning architecture." A source explained: "But to begin with, she and Harry wanted to give Los Angeles a shot. Unfortunately, Harry absolutely hated it."
And what, precisely, did Harry hate so much about the city? Was it the traffic, the related sprawl, the smog? Did he miss seasons? We can only guess, although Us Weekly reports that "the timing was so wrong amid the [coronavirus] pandemic and they lacked privacy."
The Sussex family's struggle with the tabloids has been ongoing, and appears to be one of the bigger reasons behind their departure from the U.K. L.A. was no different: The couple dealt with severe invasions of privacy, including drones zooming repeatedly over their rental house in an attempt to photograph them playing with their 1-year-old son in the backyard. In July, they filed a lawsuit against the state of California over the allegedly extreme intrusion. So, from Harry's perspective, Montecito seemed like a solid compromise, according to Us Weekly: "Just over an hour's drive from L.A., which is where a majority of their work is based, yet far enough away to escape the crowds, paparazzi, and tourism in Hollywood." Fingers crossed.