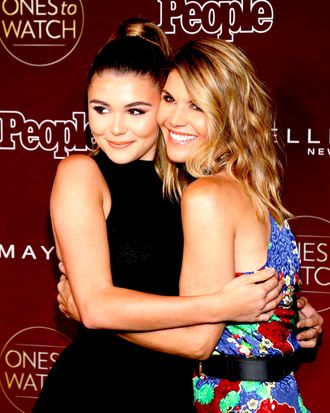 Accomplices?
Photo: Jerritt Clark/WireImage
When news of the college cheating scandal (technical name: Operation Varsity Blues) broke in early 2019, one of the first thoughts I had was, Imagine being so disconnected from your own college admissions process that you don't realize you're submitting a photo of your head pasted onto a stranger's body. I mean, if your parents award you a sparkling athletic portfolio for a sport you never played, you'd have to know something was up, right?
In the case of Olivia Jade Giannulli and Bella Giannulli, prosecutors believe yes. As they prepare for Lori Loughlin and Mossimo Giannulli's sentencing hearings on Friday, federal attorneys are reportedly working to demonstrate that the couple deserve prison time. In so doing, they may also have demonstrated that Olivia Jade and Bella were in on the scheme.
In March 2019, the Justice Department accused Loughlin and Giannulli of paying $500,000 to fraudulently secure their non-rower daughters spots on the University of Southern California's crew team, and admission to the school. Olivia Jade, a vlogger, had no interest in college, but according to a memo prosecutors filed on Monday, she went along with the scam anyway. Loughlin and Giannulli "involved both their daughters in the fraud," Assistant U.S. Attorney Justin O'Connell wrote, per Us Weekly. Apparently, the pair "direct[ed their daughters] to pose in staged photographs" and "instruct[ed] one daughter how to conceal the scheme from her high-school counselor."
According to O'Connell, that daughter was Olivia Jade. She allegedly asked her parents if she should tell her adviser that USC was her first choice, to which her mother reportedly replied: "Yes … But it might be a flag for the weasel to meddle," and also, "Don't say too much to that man." Giannulli, meanwhile, may have called him a "nosey bastard."
Granted, there have been whispers all along that Olivia Jade was complicit in the cheating scam. Attempting to clear her sullied name and possibly also restore some of her severed spon-con deals, an "insider" told Us Weekly last April that the influencer "would have never gone along with it if she thought this would happen."
Anyway, Loughlin and her husband finally pleaded guilty to fraud-related charges in May, and are expected to receive two months in prison plus a $150,000 fine (for Aunt Becky) and five months in prison plus a $250,000 fine (for Giannulli), each with two years of supervised release. They will likely spend that time in their newly purchased mansion.