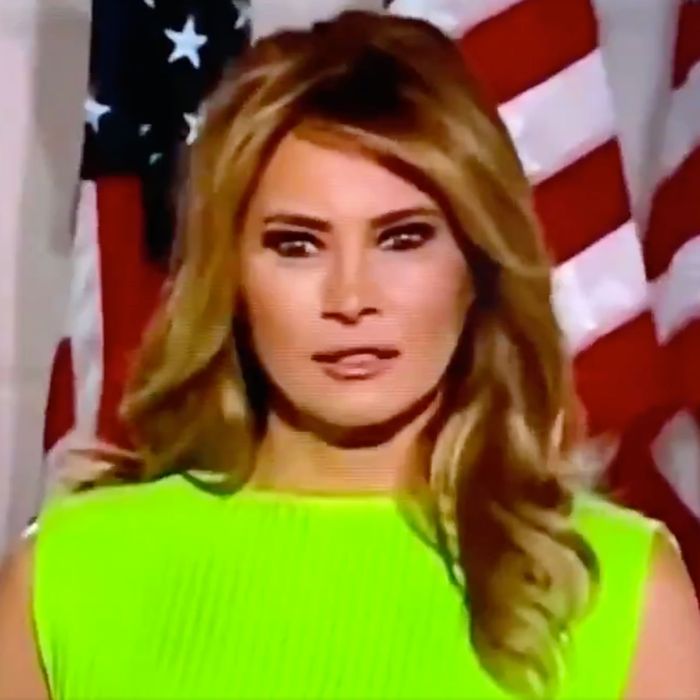 After four long, haunting, confusing nights of broadcast, the Republican National Convention concluded on Thursday. By the end, President Donald Trump had officially accepted the Republican Party's nomination, Kimberly Guilfoyle had screamed into the void, and First Lady Melania Trump had — it appeared — been forced to reboot her internal operating system after briefly but powerfully glitching onstage following Ivanka Trump's Thursday night speech.
Comedian Dana Goldberg captured the moment on Twitter, writing (accurately): "This was so weird."
The clip shows First Daughter Ivanka Trump walking off the stage overlooking the White House lawn where a number of speakers gave their speeches on Thursday night (a decision many government ethicists agreed was a violation of the Hatch Act, which "prohibits federal employees from engaging in most political activity inside federal buildings or while on duty"). Melania, standing next to her husband, smiled warmly as Ivanka passed, and then briefly experienced what seemed to be a moment of large-scale spiritual system failure, during which her connection to herself and this dimension was fully severed. The light dimmed behind her eyes, her jaw slackened and shoulders dropped, drained of vitality, and what remained onstage was merely a green-screen-friendly, First Lady–shaped shell.
This lasted no more than a second though, and after presumably having her power switch flipped off and then on again, Melania was back, smiling to the crowd.
This is not the first time Melania's inscrutable expressions have captured the public's attention. In videos and speeches, the First Lady periodically seems to give herself a little cognitive break from reality by letting her psyche float away for a bit, leaving the public to wonder — as Melania once asked about a beautiful beluga — "What is she thinking?"
It is worth remembering, however — especially after four nights of vitriolic rhetoric and fear-mongering from the RNC's right-wing-meme lineup of speakers — that as dissatisfied, disapproving, and psychologically removed as the First Lady sometimes appears, she is an enthusiastic supporter of her husband. As Washington Post reporter Mary Jordan wrote in her new book The Art of Her Deal: The Untold Story of Melania Trump: "There is ample evidence that from the very beginning, Melania not only accepted and embraced Trump's political aspirations but was also an encouraging partner."
Anyway, now that the convention is over, the First Lady can go back to selecting some new dictator cosplay outfits for her closet.