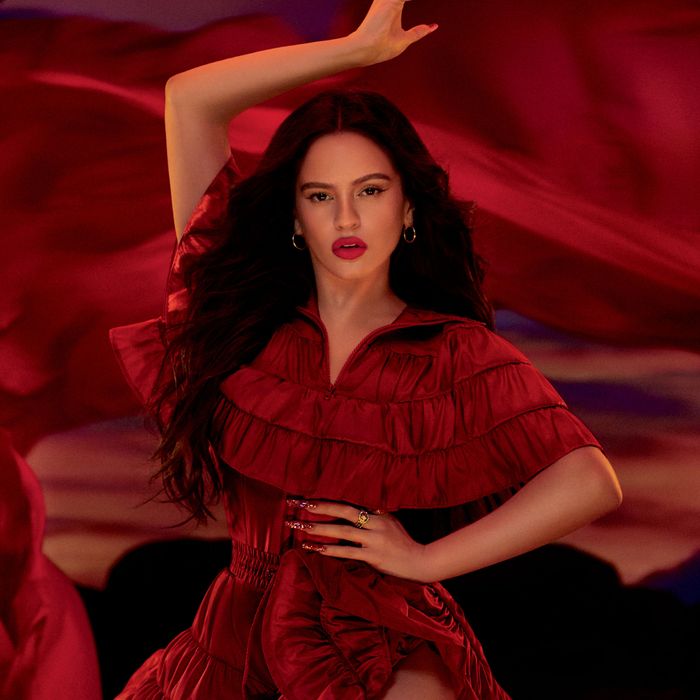 Rosalía has already done a few incredible things. She has won six Grammys, cameoed in the summer's hottest video, made a club banger in which she teaches Travis Scott Spanish, given herself some very cute bangs during quarantine, starred in a new Nike commercial, and become Spain's greatest pop export since Julio Iglesias. Her next biggest achievement: her first big beauty deal as the new face of M.A.C Viva Glam.
Joining other superstars before her, including RuPaul, k.d. Lang, Mary J. Blige, and Lil' Kim, Rosalía will be the 26th person to represent the legendary lipstick, the profits of which go entirely to charity. This year, in addition to maintaining its decades-long commitment to those with HIV/AIDS, the profits will support equal rights for women, girls, and the LGBTQ+ community.
Rosalía's shade is the limited-edition VG26, described as a matte orange-red. In a press release, M.A.C's director of makeup artistry, Baltasar González Pinel, said, "The incredible charisma, energy, and strength of Rosalía is the perfect incarnation of this vibrant, saturated red."
"Aside from her epic voice and coveted style, Rosalía is deeply committed to improving the lives of people living with HIV/AIDS around the globe, especially those most vulnerable, including women, girls and the LGBTQIA+ community," added John Demsey, chairman of the M.A.C Viva Glam Fund and executive group president of the Estée Lauder Companies, Inc.
You can preorder the shade now and virtually try it on. You can try it on in person starting September 24.