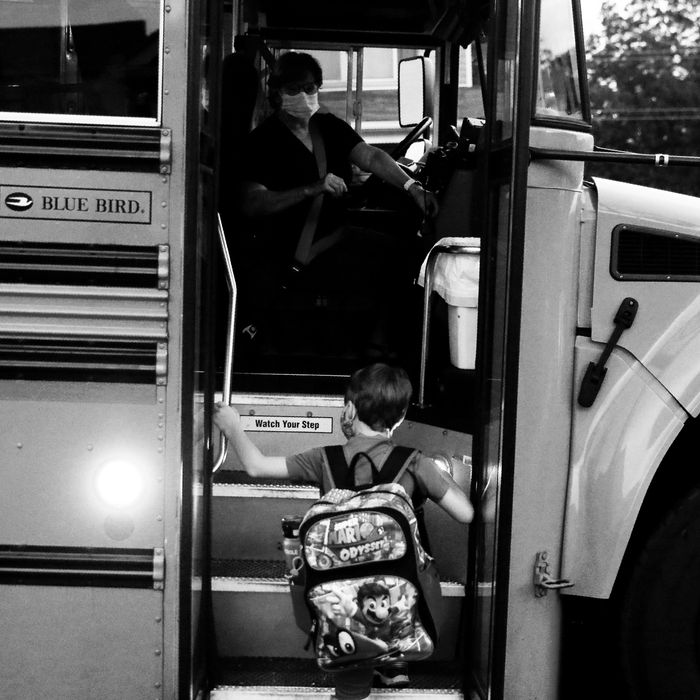 Many states that have given school districts the green light to reopen are already seeing outbreaks among students and staff.
Photo: Brynn Anderson/AP/Shutterstock
As coronavirus cases continue to surge across the country, the debate over reopening schools is one of the most complex and contentious of the pandemic. While teachers, parents, and public-health experts largely agree that remote learning is no long-term substitute for in-person classes, it's impossible to discount the risk reopening poses to students, staff, and their families, especially in areas with high infection rates. Many school districts have announced they will be starting the school year remotely, including Los Angeles, San Diego, San Fransisco, Nashville, Atlanta, Houston, and Dallas. Meanwhile, others have forged full speed ahead and reopened their doors, and we're now watching the results play out like a grim experiment. And so far, things are not going well.
In the past month, states like Georgia, Indiana, Louisiana, Mississippi, and Tennessee have given school districts the green light to reopen — and many schools that have resumed in-person classes are already seeing outbreaks. In the three weeks since schools in Tennessee reopened, some districts have already closed their doors or switched to remote learning after students and teachers tested positive for the coronavirus; in Putnam County, which reopened just last week, more than 80 students are currently in quarantine after a student tested positive for COVID-19. Cherokee County School District in Georgia, which opened on August 3, has ordered more than 900 students and staff members in the district to quarantine. In Indiana, just hours into the first day of classes, one school had to immediately shut down after a student tested positive.
That schools are already seeing outbreaks isn't surprising. Epidemiologists have said that schools shouldn't reopen until the average daily infection rate in the community is below 5 percent; according to an analysis by the New York Times, as of mid-July, only two of the country's ten largest school districts, New York and Chicago, had met that standard. On top of that, some schools appear to be disregarding the CDC's guidelines for schools reopening, which prioritize minimizing close contact between students and staff members, and emphasize the importance of precautionary measures like wearing face masks. For example, in Paulding County, Georgia, where a viral photo showed students standing shoulder to shoulder, mask-wearing is not required. Per the school system's rules, the district said it "will encourage students, teachers, and bus drivers to wear masks," but that "wearing a face mask is a personal choice." The school has since reported nine cases of the coronavirus among staff and students, and has temporarily moved to virtual learning.
Over the past few months, the Trump administration has pushed aggressively for schools to fully reopen this fall, with President Trump arguing that schools in Germany and Denmark have resumed classes with "no problem." (However, he did not acknowledge that most countries that have successfully reopened schools did so only after containing their outbreaks.) While it's true that children seem less likely to develop severe cases of COVID-19, they are not, as Trump has argued, immune to the virus: A recent analysis by the American Academy of Pediatrics and the Children's Hospital Association shows that the number of coronavirus cases among children in the U.S. has increased a staggering 90 percent in the past four weeks.
And even if the risk to children is relatively low, adults who work in schools are more vulnerable. Many teachers have spoken out about their fears of returning to in-person classes (some have considered writing living wills), and the American Federation of Teachers has authorized its 1.7 million union members to strike if they find their school's precautionary measures inadequate.
"I hope with everything within my being that no one who gets sick right now dies," a former teacher whose children attend school in the Cherokee County School District recently wrote on Facebook. "This did not have to happen. This was entirely avoidable."