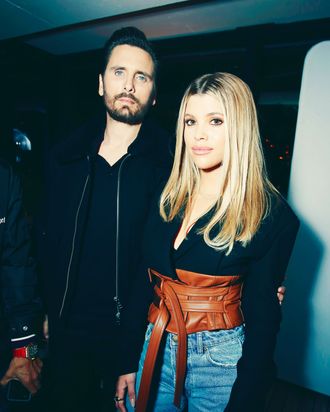 Scott Disick and Sofia Richie.
Photo: Rachel Murray/Getty Images for Rolla's
Perhaps you recall that several years ago, back in May 2020, there were reports that Scott Disick, 37, and Sofia Richie, 21, had split up. That was true at the time, but then, apparently, there was a July reconciliation, which was followed by another breakup and maybe another reconciliation, and anyway, now, the two have ended things — "for good" this time, or at least definitely for a little while.
An "insider" told E! News this week that the couple has been off and on for two months. "Sofia really pushed to make things work between them after they initially broke up, but Scott officially called it off recently and they are no longer speaking."
Disick and Richie were first linked in October 2017, when Richie was only 19 and Disick was only a 34-year-old father of three. The following years were rocky for the pair: In the summer of 2018, Richie reportedly dumped Disick for two days after the Kardashian-adjacent star was spotted getting cozy with a "dirty blonde, green-eyed girl" at Kanye West's Ye listening party in Wyoming. Disick reportedly promised to "change," and, to Lionel Richie's dismay, Sofia took him back.
Sources said at the time that Richie, who was a teenager for a not insignificant portion of their relationship, was a good influence on Disick, who was in his 30s the entire time. "Sofia is really good for Scott; she has a great head on her shoulders and the two get along well. Scott still likes to have a good time, but he's been much calmer while dating Sofia."
The age difference eventually proved to be too much though, and, according to E! News' "insider," Disick is in "a very much different place in his life, really focused on a more quiet lifestyle, his kids, and his investment businesses. And Sofia, at 21 years, [is] really still trying to figure what she wants to do, which drove them apart over time."
Well, at least we know Disick's wardrobe is Raya-ready.