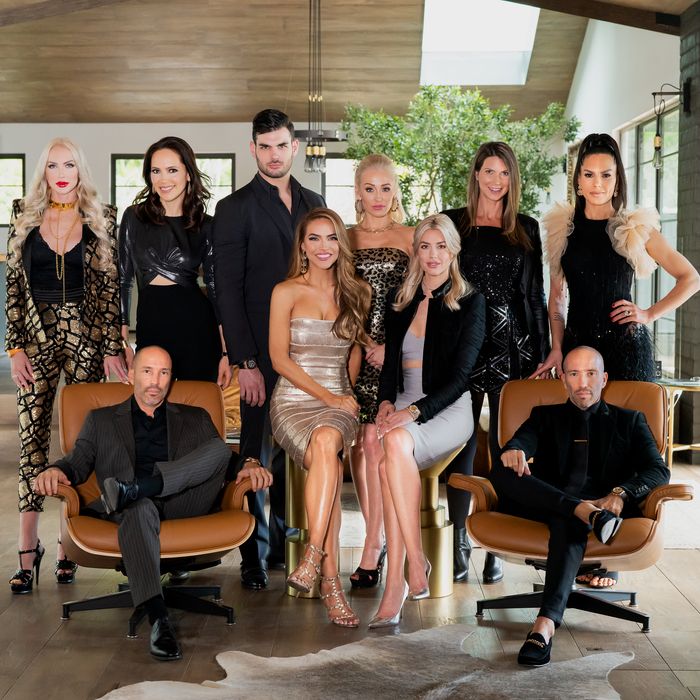 The past few years have seen Netflix get big into reality TV. The concepts for popular shows like The Circle, Dating Around, and Love Is Blind were ostensibly more cerebral — billed as "social experiments" — and even tame compared to the drunk, scandalous reality TV of yore. The exception is Selling Sunset, which is much less intellectual and much more, well, Bravo.
Selling Sunset, which releases its third season tomorrow, involves a group of extremely hot real-estate agents who compete with each other for the top commission by selling homes in Los Angeles's richest neighborhoods (the properties run anywhere from $5 million to $75 million, and their cut is substantial). The agents, all women, work at the Oppenheim Group, a high-end agency on the Sunset Strip, run by two very bald, very buff twin brothers named Brett and Jason.
The vibe is a mix between Million Dollar Listing and Real Housewives, following the women as they show homes during the workday, and into their private lives after hours. There, they gossip about each other and their dating lives (which sometimes involves hooking up with their billionaire clients) and go to parties in the Hills, where they drink vodka on the rocks (with lemon and a straw) and yell at each other.
While some of Selling Sunset consists of house porn — wide pans of Parasite-style, $40 million homes overlooking L.A. — the bulk of it focuses on the drama between the agents, all of whom wear tiny, Bebe-style dresses at all hours. There's Chrishell, a highly capable agent and daytime soap star whom everyone seems contractually obliged to hate. Then there's Amanza, a single mother who looks like Gal Gadot and is arguably the group's most down-to-earth human. There's also Mary, who used to date one of the Oppenheimer brothers but got married to a French model named Romain last season. There's Heather, a former Playboy Playmate and current podcaster — season three kicks off with speculation about when Heather's boyfriend (Tarek El Moussa of HGTV's Flip or Flop fame) will propose. (Spoiler: He did about a week ago, details on People.) And last but not least, Davina, who looks totally bewildered on camera, and when it comes to drama only takes the side of the scariest person in the room, who is always Christine.
Christine, Christine. In season three — as in the previous seasons — the bulk of the discord comes from Christine, a perfect reality-TV villain. She's a platinum-blonde narcissist who is several degrees more malicious than any of the other women, and is engaged to a former client and tech billionaire. And she's just mean! She kicks off the season by calling one of her best friends a "fucking idiot" on her wedding day, and accusing people who don't agree with her of having dementia. That said, she's a talented agent and excellent negotiator, and holds a "Burgers and Botox"–themed event in episode one to get people interested in a property. She also has an incredible and deranged sense of style: Her favorite color this season is lime, until the series finale — her wedding day — when she is in black.
If you're interested in getting into some truly tasteless television this weekend, look no further than Selling Sunset, which is more bitchy than the (sometimes dark) rancor of a Real Housewives season, but less manufactured than The Bachelor. And in spite of their antics, we're talking about women who have impressive, high-paying jobs, who also dress like they're going to 1 Oak at 10 a.m. Inspiring!