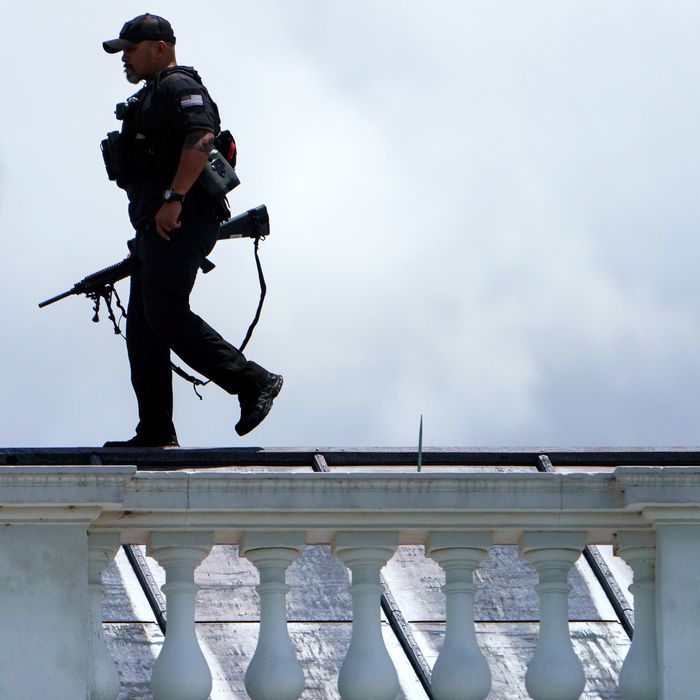 Photo: Brendan Smialowski/AFP via Getty Images
Last week in D.C., on a street that had been filled with people protesting racist police brutality earlier this summer, two Black mothers and their young children were surrounded by Secret Service agents, who pointed a rifle at them. The women — 26-year-old India Johnson and 25-year-old Yasmeen Winston, friends since childhood — had parked Johnson's car on Constitution Avenue near the White House and were preparing to walk to the fountains at the World War II Memorial so their kids, Johnson's 13-month-old son Sir Quincy and Winston's six-month-old son G'esus, could play in the water on the particularly hot day.
The Washington Post reports that on Thursday Secret Service officers drove their cruiser into Johnson's car, hitting her bumper, then drew the firearm, ordered the mothers out, and cuffed them, separating them from their children. The women say that at first the officers did not wear masks while handling their crying children. They also said the officers first told them that a vehicle had been reported stolen by two Black male suspects. Johnson was clear that this was her car and gave the officers proof of ownership. After nearly an hour the women were free to go, without so much as an apology.
Over the weekend, the women's attorney, Timothy Maloney, wrote a letter to Secret Service Director James Murray demanding an investigation into the agency's aggression toward his clients. The letter states that officers handcuffed both women without reading their Miranda rights. While the women were handcuffed outside, the babies cried in the back seat of the car. Since the doors to the car were open, the women feared their children were overheating, according to the letter. "No one wants to hear their kid cry," Winston told the Post. "For this to randomly just happen, it's really traumatizing." Winston asked if she could breastfeed her son, but the officers ignored her.
Eventually, an officer called an ambulance to check on the kids, and the women were released from the restraints. A bystander on the scene told the women that an officer searched Johnson's car without her permission while the mothers were attending to their children and the ambulance.
"These were two young African American mothers with their babies sitting lawfully in a car with D.C. tags," Maloney wrote in the letter. "Can the Secret Service honestly say it would have treated white out-of-town tourists and their babies, sitting there without District tags, the same way?" Maloney told the Post he has yet to receive any response to his letter from the Secret Service. A Secret Service spokesperson confirmed to the Post that they had received a "query requesting the agency investigate an alleged interaction between Uniformed Division Officers and two members of the public" and were looking into the matter.
Winston told the Post that in the days since the incident she has begun to look for therapy, and Johnson is afraid to drive her car and doesn't even like to leave her house. "I could have been another Breonna Taylor," Winston told the Post. "I could have been another innocent woman who has no record and got shot."