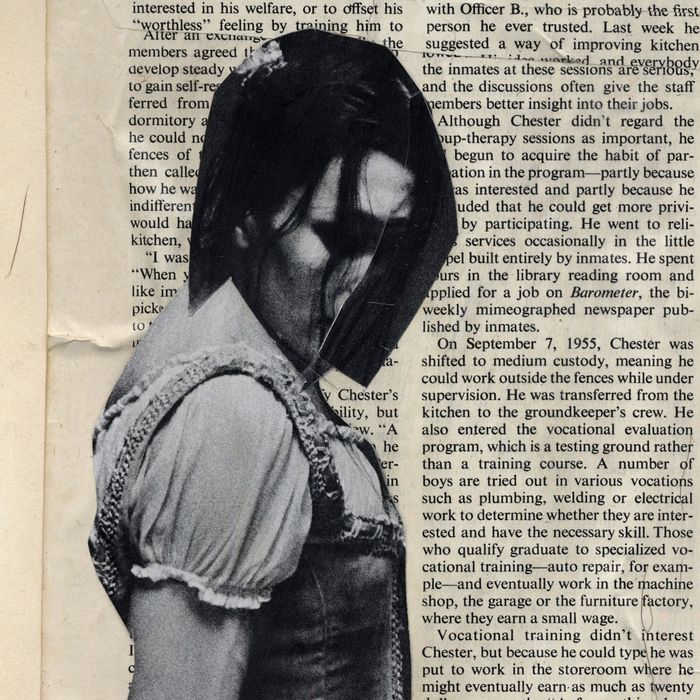 Photo: Photo-illustration: James Gallagher
This week, a woman trying to decide if she should confess her feelings to her roommate (and if she should leave the city): 25, single, Brooklyn.
DAY ONE
9:00 a.m. I'm walking down the hall to my babysitting job. I sit for a really nice family on my floor. The dad is really hot, actually. The mom is really funny and confident and I can see why he loves her. Their kids are great too.
11:30 a.m. Taking the kids to the park. We stop by my apartment first so they can say hi to my dogs and Emily, my roommate. We met through Facebook a few months ago and she moved in, and it's been an awesome arrangement. The one thing is, there's been a little flirtation lately. Nothing has happened but I feel an energy in the air, a little seduction dance. It's exciting and I feel butterflies in my stomach every time I see her — but we live together, so it's crazy intense. It's also potentially destructive.
4:30 p.m. I'm on a walk, listening to music and thinking about things. I've identified as sexually fluid for a while, and I've dated women and men. My sexual identity isn't really a thing. Emily identifies as straight, and from the few conversations we've had about her openness to hooking up with a woman I can tell the fact that it would be a "lesbian" experience is a bigger deal for her. I wish she'd get over that part, but of course I respect it.
8:00 p.m. Emily is an actress and is filming something outdoors on a roof tonight. A small indie film. She won't be home until later so I have some wine and tuck myself into bed early. I miss her when she's not here.
DAY TWO
8:30 a.m. Emily is still sleeping in her room. I just don't know if the anticipation, the fantasy, is better than the real thing. I'm pretty sure if we drank enough and I was straightforward enough, we could at least kiss and see how it felt. I'm definitely in love with her, and I think she knows that. But I haven't actually told her how I feel yet. There's just so much at stake …
2:20 p.m. I have to ride the train to my other job today. I work for a non-profit in Manhattan and we're alternating work days. This train feels pretty safe. Everyone is wearing a mask. I"m generally very proud of my fellow New Yorkers right now.
3:00 p.m. Get to the office. Sanitize.
4:00 p.m. Emily and I are cooking tonight. We text each other recipes and ingredients to buy. I write her, "Send me a selfie; I want to see your beautiful face." I'm starting to be deliberately more flirtatious, or sensual, in the way I communicate with her. I'm just trying to transition us to a more romantic place. I don't want her to be completely blindsided if and when I tell her I love her, or if I kiss her. The truth is, I'm really scared. I have no idea how she's going to react to my feelings. She ends up sending me a selfie — as a joke!
8:00 p.m. We're making a South American feast and drinking good red wine (we're 25, so "good red wine" means wine that's more than 11 dollars and less than 18 dollars). In our kitchen, I'm a little extra touchy toward her. She doesn't seem to mind it at all.
10:30 p.m. Dinner was really delicious but we ate it while watching a documentary, so it didn't leave much room for anything else. I couldn't exactly look Emily in the eyes and spill my guts. I have to tread so lightly here. She's my roommate! Plus I think a part of me enjoys the build up. I'm on fire inside!
DAY THREE
9:00 a.m. Babysitting!
3:00 p.m. Long walk while listening to the new Taylor Swift. I love it. "Exile" breaks my heart.
6:00 p.m. I'm actually having dinner tonight with an ex-boyfriend. We dated for a few months, had decent sex, and kind of just fizzled. It just wasn't there. But it's nice to see him now and then. We talk about how sex-deprived we both are. We're wearing masks and having drinks at an outdoor restaurant. He won't hook up with anyone right now, but he's having a lot of virtual sex, which is funny to hear about. I've hooked up a few times since the pandemic, but they've been calculated risks. Frankly, it's Emily or no one right now. I tell him about my feelings for her and he gives me the only sensible advice which is to talk to her about everything. I need to be honest.
9:30 p.m. But not tonight. She's on the couch watching a depressing but very good movie and I join her. I lay down on her and kind of tickle her leg while we watch. She doesn't stop me.
DAY FOUR
6:30 a.m. My babysitting job starts early today.
9:00 a.m. Emily joins me and the kids and we all go to the park. As we walk through the park, and the kids play ahead of us, I take Emily's hand. She doesn't pull it away. It's a beautiful morning. I kind of pull her toward me. "You're so pretty," I say to her. She hugs me. We hold each other for a minute and then go chase the kids. Okay, so, this is on? Right? This has to be on.
3:00 p.m. I'm at my other job now. Something comes over me and I go for it. I text Emily, "Can we talk about us?" With a heart emoji. It's the longest minute of my life before she responds. "Sure….lol." It's an ambiguous answer but it's not bad. We agree to talk tonight. I feel joyful and sick to my stomach at the same time.
8:00 p.m. I come home and she's drinking wine and finishing up some takeout. I tell her I want to take a shower, because I was coming from the subway. I think very hard about which tank top to put on post-shower.
8:30 p.m. We're on the couch and it's awkward and adorable at the same time. "I have feelings for you," I say. Seriously, I might throw up. She says she also has feelings for me, but she's less sure of them, however. She is really stuck on the fact that she is not a lesbian. I told her she can identify as straight, I don't care, none of that matters. It's not as easy for her to cross over though. Maybe it's cultural — she's from a repressed Catholic family and I'm the product of two super sexually liberated hippies.
11:30 p.m. We are talked out and honestly, it's not as sexy as I hoped it would be. I feel like I'm begging her to give me a chance. I'm being so vulnerable, it's almost boring. "Can I kiss you?" I say, already knowing the answer. "Not yet," she says. So instead we hug, closely and warmly, and go into our own bedrooms. I hope I haven't fucked everything up.
DAY FIVE
8:30 a.m. Morning time in the apartment is a little awkward. I go on a really long walk. I'm very confused.
3:00 p.m. I'm babysitting tonight, until late, and I'm kind of glad about that.
DAY SIX
9:00 a.m. We have to figure out if we want to renew our lease. Separate from all my feelings for Emily, I truly don't know what to do about the apartment. My family is in rural Massachusetts where there is more space for me to wait out the pandemic. I live paycheck to paycheck to pay the rent, and it's all wearing me down. I'm feeling low on everything right now too.
10:00 a.m. I text her that in the next few days we have to let the landlord know if we're staying or leaving. I know it seems hostile and related to the rejection but he really is breathing down my neck for an answer. We agree to figure it all out tonight. Great, another long, hard talk awaits …
8:00 p.m. I tell Emily that I truly don't know what to do. She doesn't want to leave New York because she has some work lined up. It's nothing major but it's real acting work and that means everything to her. She can take over the lease even if I leave New York, but that just feels so wrong. I'd miss her so much. Why would I take myself out of the equation like that?
11:00 p.m. Again, I go to sleep confused. Although I think we were both happy to talk about something serious that isn't revolving around our relationship.
DAY SEVEN
11:00 a.m. We've decided to do our favorite thing ever today: picnic. We have books and beer and a big picnic blanket.
2:30 p.m. We're both pretty buzzed. I roll over on the blanket and say, "Please can I kiss your neck, at least?" She giggles and says sure. It's insanely hot. The neck kissing turns until mouth kissing, and soon we are very gently and slowly making out. It doesn't last long, because it's very hot out. But we did it, we kissed!
4:00 p.m. Back home, it's kinda weird in that morning-after way, even though it was only a kiss.  We take separate showers. We're smirking and laughing and being awkward, but it's nothing bad.
7:00 p.m. We decided to invite some friends over to our outdoor space. As we get everything ready, I decide that there's no way I'm leaving New York. There's no way I'm leaving Emily.
Want to submit a sex diary? Email sexdiaries@nymag.com and tell us a little about yourself.