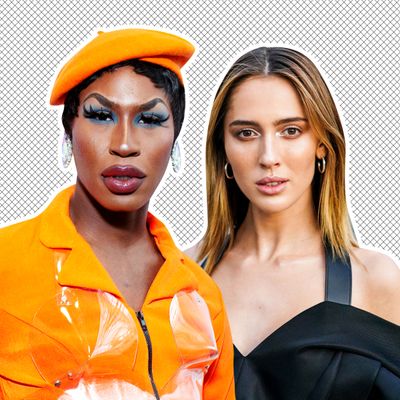 Shea Couleé and Teddy Quinlivan.
Photo: Getty Images
Honesty is the best policy, especially when it comes to choosing products for your skin. It's easy to find reviews by beauty influencers who get paid to rave about certain products, but it's harder to find tips from peers who tell it like it is. But now there's an app for that: Cherie was founded by Kelly Chen, one of the first executives at TikTok. She launched the app last year, inspired by her own frustration with seeing sponsored content flood social media. Now, it has over 100,000 product reviews.
Chen says her ultimate goal is to build a community free from the constraints of societal beauty norms, where people can define beauty on their own terms. And because even an influencer-free platform needs ambassadors these days, she recruited two queer powerhouses who are working to redefine the meaning of beauty: Shea Couleé, winner of RuPaul's Drag Race All Stars 5, and Teddy Quinlivan, the transgender supermodel who has walked for just about every designer you can think of.
The two spoke with the Cut about the therapeutic power of makeup, the importance of representation in beauty, and some of their favorite products.
Why do you use Cherie?
Shea Couleé: As somebody who's dealt with problematic skin since my early 20s, I've definitely learned that it's a process. I'm getting opinions from real people. And when I say real people, I mean people who are paying for products out of their own pockets and then giving very unbiased opinions and reviews. It's really great to have a community where you can connect with people with similar skin qualities, whether they are dark complected or have oily skin, and share information.
Teddy Quinlivan: People share their experiences with products, and they're allowed a platform and a space to be authentic. It doesn't feel like it's curated. I feel like I have a voice now in the beauty industry.
What's your voice in the beauty industry?
Couleé: I'm standing for inclusion. I want everyone to understand that they are inherently beautiful and that they deserve to feel represented regardless of how they look. There's so much emphasis on Euro- and skinny-centric beauty standards. It's about time we dismantle that and create a beauty industry that's more inclusive for everyone.
Quinlivan: Finding my voice came through my experience working in fashion and having a platform to express myself through outfits and makeup in a very public way. My love for beauty isn't just part of my career but an authentic part of who I am. I've always used beauty to express my identity, whether it's expressing my gender identity or just expressing the mood that represents me that day.
What are your thoughts on representation in beauty?
Couleé: The beauty industry still has work to do as far as inclusion. Even with all the brands that have expanded their shade ranges, I still have a lot of difficulty finding one that's right for me. I'm very dark, and my undertones are very red and orange. Typically, for a lot of brands, once their foundations get deeper, the undertones get cooler, but there are people that have deep complexions who are actually really warm underneath. They've done the research for more fair complexions, and they need to turn it to the other end of the spectrum.
Quinlivan: At the end of the day, for a lot of beauty companies, their prerogative is to meet their bottom line. And it's much easier to sell a product with a face attached to it that has no "negative" affiliations. So for a beauty brand to hire somebody like me — who's an outspoken trans-rights activist and very anti–Trump administration — having my face represent a product is a step in the right direction in terms of representation.
How did you learn to do drag makeup so well?
Couleé: A lot of trial and error! Even when it came to makeup tutorials, there weren't a lot that were showing how to paint on darker skin. I was fortunate that I took a class when I was in college called "The Chemistry of Art and Color," where I learned about color theory. That helped me to be able to mix certain foundations and colors to achieve what I was looking for. Same with different types of eyeshadows and blushes — I used so many bold colors that actually looked very natural because of the way the color was absorbed and applied to my skin. Now I have a very deep and concrete understanding of my makeup.
How does putting on makeup every day make you feel?
Quinlivan: Even if I'm in the darkest mood on the darkest day, doing my makeup gives me a boost of confidence and energy and helps melt away my insecurities. As a transgender woman, makeup is a tool to express my gender identity as well. So it's therapeutic in so many ways for me. Now, because of quarantine, I'm still doing my makeup every day, but I'm doing it with a different intention. It allows me to feel "normal" in the most odd time.
Shea's Skin-Care Picks
"My top choice when it comes to gentle cleansers. It's formulated with kale, spinach, green tea, and cold-pressed antioxidants. It has a soothing lather and wonderfully clean aroma."
"I like the Ordinary because of their quality and price point. This solution is ​perfect​ for exfoliating the top dermal layer of the skin and leaves you with fresh and lively skin."
"I love Sunday Riley for the ingredients. Holy moly, are they top-notch!"
Teddy's Skin-Care Picks
"I don't necessarily go to one specific brand for a product. For me, it's more like, Does this product have the ingredients that I'm looking for? So when it comes to moisturizer, I must say that my favorite is the Augustinus Bader Rich Cream."
"Everybody who knows what's good in skin care always gravitates toward the same thing, but if it works, it works. I'm not questioning it as long as it keeps me looking right and tight."
"This has been a many-repurchased product. It's a great exfoliating mask."
"This smells really good, and in the summertime it's so refreshing. Especially now that I live in L.A., the air is very dry, so I feel like I'm constantly looking for a product to rehydrate my skin without having to slather on moisturizer three times a day."