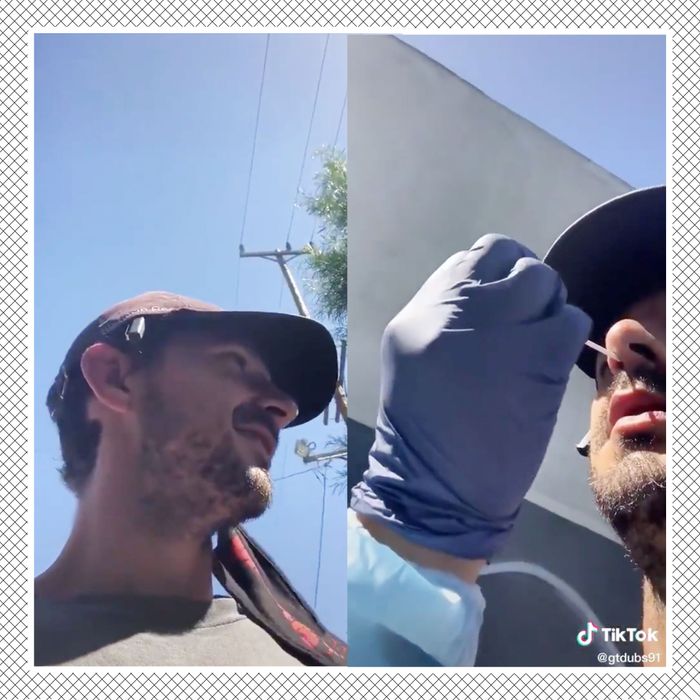 Shia LaBeouf getting a COVID test.
Photo: @gtdubs91/TikTok
One summer, when I was 10, my parents dropped me off to stay with my Mormon grandparents in the suburbs outside of Salt Lake City, Utah, for a couple of weeks. My grandparents got me a Book of Mormon, drove me to various temples around the Salt Lake Valley, and showed me how to pray: before each meal, and before bed, and after you deliver a casserole of funeral potatoes to someone. As a young, lapsed Catholic, all of this religious ritual was novel and fun to me. I especially loved prayer before bed, when, from what I gathered, you could just ask God for all the stuff you wanted as long as you said thank you for the stuff he gave you first. It was hot that summer, and each day, when I wasn't at the community pool or learning about Joseph Smith, I'd sit in my grandparents' cool, dark basement, under a painting of blond Jesus, and watch hours of the Disney Channel. Then, each night before going to sleep, I'd kneel by the side of my bed, tiny hands clasped in front of my face, and pray as hard as I could for the one thing I wanted more than anything else in the world: for God to please, please — please! — let me open-mouth kiss the boy of my dreams, Shia LaBeouf, the star of Disney Channel's Even Stevens.
Anyway. Today, I was reminded of that summer and those prayers, when I watched this clip of LaBeouf getting a COVID test.
The video, uploaded to TikTok by user @gtdubs91 and then to Twitter by @oddzeno, garnered over 100,000 likes in under 24 hours.
"All I got from me tweeting that is that girls are HORNY for Shia," @oddzeno followed up, a few hours after uploading the clip.
In the video, LaBeouf confirms his name and birthday with two cheery "Yup"s, his mask hanging off his left ear and a pen tucked into the side of his baseball cap.
"What's your name?," LaBeouf asks the person administering the test.
"Yesenia," they answer, off-screen.
"Yesenia! Good name," the actor says.
After a brief discussion about whether one nostril is deeper than the other ("No, it's the same thing," says LaBeouf), Yesenia sticks a long swab up LaBeouf's right nostril, counts to ten, and pulls it out.
"Aw, you got a sweet touch!," LaBeouf says, beaming.
Then he says, "Thank you, Yesenia," smiles into the phone camera, and leaves.
Someone being polite to the health-care worker testing them for the disease currently sweeping the globe is not particularly remarkable. This is just a nice, charming video to watch, a pleasant, 44-second brain break to take in the middle of your day and feel whatever you feel. In the replies to the video, some people say they want to be the swab swiveling around in LaBeouf's nostril. And you know what, that's their right to feel that way.
Personally, I don't dream of being a nose swab. But I do like imagining going back in time to show this video to my 10-year-old self and telling her, "You'll stop praying as soon as you leave Utah this summer, and while you'll never open-mouth kiss him or even meet him in person, someday the boy of your dreams will grow up to be a dirtbag darling of the menswear world who dabbles in slightly heavy-handed performance art and is polite to health-care workers during the global pandemic, and your crush will never fully go away." To which she would probably reply, like, "What global pandemic? Also, why wouldn't he be polite? Is the bar for celebrities so low? Does Prince William still have all his hair?" And I would be like, "Uh," and then she would probably pray for me to go away and leave her alone so she can dream about kissing in peace. Amen.