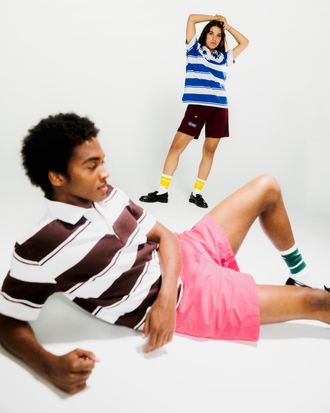 Photo: Daniel Shea/Nordstrom
Here's a way to dress like the king of the beach even if the only surfing you're doing is on the internet. For its latest New Concepts @Nordstrom project, the retailer partnered with Noah, a New York-based brand inspired by surf, skate, and music culture.
Called Concepts 011: Noah, the capsule collection is made up of yet more collaborations with other small brands: colorful board shorts and rugby polos with Birdwell Beach Britches; classic eyewear with Vuarnet; flip-flops that are "too good for the name 'flip-flop,'" and pop-art inspired beach gear with the B-52s. Then of course, there's a bunch of fun T-shirts and hoodies thrown in the mix.
Sam Lobban, Nordstrom's SVP of Designer and New Concepts, says he hopes to amplify Noah's ethos of conscious consumption and social and environmental awareness to a national level. The clothes are made in "factories where tradition, expertise, and human dignity take precedence" over making a buck, and the brand always donates portions of its profits. Noah doesn't usually work with big retailers, since "large and small companies may have different goals." But this time, Nordstrom and Noah's goals aligned.
"The world can't afford business as usual anymore. The old ideas of big business and small business and the imbalance of power within the fashion industry needs to be a thing of the past," said Brendon Babenzien, founder of Noah, to the Cut. "Our industry was created by people with vision and passion and a lust for life and fun. But over time business has slowly eroded the creative position. Noah's partnership with Nordstrom strives to regain some of the human element, the creativity and the fun that built this industry in the first place."
See some of our favorites from Concept 011: Noah below, and shop the entire collection here.